Daughter found at Greenock hotel dies in hospital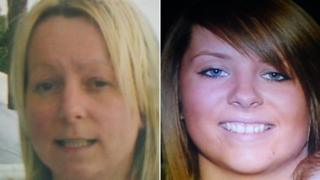 A 23-year-old woman who was found seriously injured along with her mother at a hotel in Greenock has died in hospital.
Nicola McDonough and Margaret McDonough, 52, were discovered at the Premier Inn, Greenock, on Friday.
Margaret died after being taken to hospital on Friday. Police Scotland confirmed Nicola had died on Monday evening.
Officers had earlier said they were not seeking anyone else over the incident.
Police said they wanted to trace relatives and friends of the pair or anyone who saw them in the days before the incident.
Det Insp David Wagstaff, of Police Scotland, said: "We are still piecing together the last known movements of Margaret and Nicola.
"Our inquiries have revealed that after last being seen in the Paisley area around 09:00 on Thursday 9 May, both travelled to the Balloch area and we have a sighting of them around 11:00 that day in Carrochan Road in Balloch."
Det Insp Wagstaff asked anyone who saw the women - or their red Suzuki Swift, registration number SL56 CBF - in Balloch on Thursday morning to get in touch.
Appeal to friends
He also urged anyone who saw them or the vehicle in Paisley and Greenock on Thursday to get in touch.
"I'd particularly like to speak to any of their friends or acquaintances," he said.
"Were they in touch with you on Thursday 9 May by phone, face-to-face or via text message? Did they let you know about any plans they had made?"
Det Insp Wagstaff said officers know that the mother and daughter checked into the Premier Inn in Greenock at about 15:50 on Thursday.
He said they left a short time later and then returned to the hotel between 00:30 and 01:00.
Both women were found severely injured in the hotel at about 07:00 on Friday.
Det Insp Wagstaff added: "I'd like to make it clear that at present we are keeping an open mind on the circumstances. However, we can confirm that we are not looking for any third party at this time.
"I need information from the local communities of Renfrewshire, Inverclyde and Balloch as these are the areas that we know Margaret and Nicola travelled to between Thursday 9 May and Friday 10 May."
Margaret McDonough was a mother of five grown children and a foster carer. She had stood as a Liberal Democrat candidate in council elections.