Angela Sharkey weeps giving evidence at fire deaths trial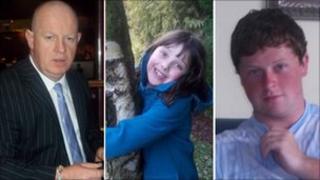 A woman who survived a house fire which killed her husband and two children has told a court she wished she had never gone to sleep on the night they died.
Angela Sharkey, 48, was badly hurt in the blaze at her home in Helensburgh, Argyll and Bute, on 24 July 2011.
Her son Thomas, 21, and daughter Bridget, eight, died in the fire. Their father Thomas Snr, 55, died days later.
At the High Court in Glasgow, Scott Snowden, 37, and Robert Jennings, 50, deny murder and attempted murder.
Mrs Sharkey was giving evidence at the trial of Mr Snowden and Mr Jennings, who are accused of deliberately starting the fire and murdering her family.
'Sound asleep'
She told the court the last thing she remembered on Saturday 23 July was reading a book in bed.
Bridget and Thomas jnr were "sound asleep" and Mr Sharkey was still out at the pub, she said.
Advocate depute Alex Prentice QC, prosecuting, asked the widow: "At some point (while you were reading) did you fall asleep?"
She replied: "Yes. I wish I hadn't."
Mr Prentice said: "What is your next memory?"
Mrs Sharkey told him: "The Royal Infirmary. I saw I was in hospital, I didn't know how long exactly (I had been there).
"My family have told me they never thought I was going to survive. I was burnt. I was covered in bandages. I have a skin graft from my left leg to my right arm."
She wept as she said: "(I was told) that both my children were dead. My husband was gravely ill, as I was. I was the only one that survived."
Mr Prentice then said: "Your husband later passed away," and she replied, sobbing: "Yes. I was the only one that survived."
Mrs Sharkey was then asked if the day she was giving evidence held any special significance for her and replied: "My son would have been 23 today."
Drug conviction
Under cross-examination by Donald Findlay QC, representing Mr Snowden, Mrs Sharkey told the jury that her husband's nickname was Teabags.
Mr Findlay asked her: "If your husband was involved in drug dealing you didn't know anything about it," and she replied: "No."
Referring to his drug conviction for cannabis resin, Mrs Sharkey said that a washing machine-sized parcel was delivered to their home.
She said she signed for the parcel and minutes later the police burst through and her husband pleaded guilty to a drug offence and was jailed for four years.
Mr Findlay asked: "When this package was delivered, as far as you know, was your husband dealing in cannabis," and she replied: "No."
The QC went on: "If your husband was set up, there must be someone with a considerable hatred for him, did he believe he knew who had done it," and Mrs Sharkey said: "No."
Mrs Sharkey told the jury that her husband, who she called Tommy, did not get on with either his son, Richard Sharkey, from a previous relationship, or his cousin Mark Sharkey, who is in his 30s.
The court heard that the incident in February 2011, when Mr Sharkey was stabbed by Mark Sharkey, had split his family because he had given a statement to the police.
Mrs Sharkey confirmed that various walls in parts of Helensburgh were daubed with: "Teabags is a grass."
She was then asked by Mr Findlay: "Were you aware that after the stabbing, someone claimed that Tommy's son, Richard, said he would finish the job."
Mrs Sharkey said: "That he would finish the job? No, I didn't know that."
'Very angry'
The widow was then asked if Richard Sharkey had sent a text message to her husband after he got out of hospital saying: "Now who's the daddy. I'm in Kirkmichael let's have a square go."
She replied: "Yes I was very angry at that. Tommy could hardly move because of his injuries."
The court heard that Mr Sharkey had been involved in a number of businesses including a kebab shop, a photo business and a nightclub in Cumbernauld.
His last venture was renovating the derelict Mariners pub on Helensburgh's waterfront.
It was burnt to the ground weeks before it was due to open and the Sharkeys, who were not insured, lost all their money.
Mr Snowden and Mr Jennings are alleged to have poured petrol or something similar through the letterbox of the only door allowing access to the family's Scott Court home during the early hours of 24 July 2011.
It was then set alight as the four occupants slept, prosecutors claim.
Mr Snowden is accused of using malice and ill-will towards Mr Sharkey earlier in 2011 by threatening to shoot him and threatening to have his house set on fire.
Security business
Later the court heard from George Sharp, who was a construction site manger at Kingspoint, Shandon, Helensburgh, in 2008.
Mr Sharp said that a house under construction was set on fire in the evening of 3 July. He told the jury that at lunchtime that same day he had been paid a visit by Mr Snowden and another man.
He said they asked who was responsible for their site security and he told them Ruchill Security. In evidence Mr Sharp added: "They said 'we can give you a better deal'."
"I said: 'I've got nothing to do with that.' They then left me a brochure and a business card."
Under cross-examination by Mr Findlay, Mr Sharp agreed that there was nothing unusual about touting for business.
Between them the accused face a total of 22 charges, all of which they deny.
Both accused have lodged special defences of incrimination and alibi, with Mr Snowden claiming he was in Mexico when the fire was allegedly started and Mr Jennings claiming he was home alone in Helensburgh.
The trial before Lord Matthews continues.