Men go on trial over Sharkey fire deaths in Helensburgh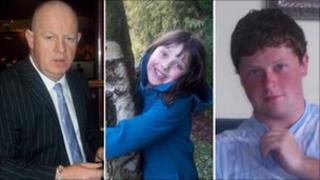 The jury in the trial of two men accused of murdering a man and his two children in a deliberate fire has heard of the family's last moments together.
Thomas Sharkey, 21, and eight-year-old Bridget died in the blaze at their home in Helensburgh in July 2011. Their father Thomas Snr, 55, died days later.
Their mother Angela, who survived, said the day before was "a normal Saturday".
Scott Snowden, 37, and Robert Jennings, 50, deny murder and the attempted murder of Mrs Sharkey.
The court heard that Mrs Sharkey's son Thomas, had been studying accountancy at a Georgia university on a golf scholarship.
Mrs Sharkey told the jury of 10 women and five men that she and her daughter Bridget and her husband's half brother Eric Stevens had spent three weeks in the summer in Florida with Thomas junior before all flying home.
On 23 July, the day before the fire, Thomas junior had played in a golf tournament at Helensburgh Golf Club and won.
Mrs Sharkey told prosecutor Alex Prentice QC that Bridget had been taken to a friend's house for a sleepover, but had later asked to come home.
Her husband had been out at his local pub, the Ashton, in Helensburgh that night, she said.
Mrs Sharkey said: "Everybody went to bed early as young Thomas had another competition and Bridget was going to a farm with a friend."
Earlier Mr Prentice had asked her what she had been doing that Saturday and Mrs Sharkey replied: "It was a lovely day. I was sitting outside. It was just a normal Saturday for me."
Pub fire
Mrs Sharkey described how her husband had hoped to open a derelict pub which he had been restoring.
She said: "It was burnt to the ground. It was a few weeks off being open."
Mr Snowden and Mr Jennings deny setting fire to the Mariners on 19 April 2010.
The widow said her husband did not get on with his son from a previous relationship, Richard Sharkey, nor his cousin Mark Sharkey.
Mr Prentice referred to an incident in February 2011 which resulted in Mark Sharkey stabbing her husband.
Mrs Sharkey was asked if her husband was badly injured and she replied: "Yes he was. He had a huge hole in his back and had to go to hospital."
The court heard that after that alleged incident she saw Mark Sharkey outside their home with another man who her husband said was Mr Snowden.
Mr Snowden and Mr Jennings deny all the charges against then. They have lodged special defences of alibi and incrimination.
Two of the men named in their special defence are Richard Sharkey and Mark Sharkey.
The trial before judge Lord Matthews continues.