Wellington School in Ayr warned over charity status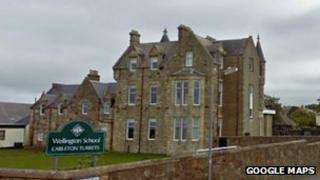 A fee-paying independent school has been told to widen access to pupils from low-income families or risk losing its charitable status.
Wellington School in Ayr failed an assessment from the Scottish Charity Regulator and has been given 18 months to meet expected standards.
Five other independent schools from around the country passed the latest review from the watchdog.
Charitable status exempts schools from millions of pounds in rates and tax.
Establishments which have the status do not pay corporation tax and receive an 80% discount on their rates.
To qualify for the status, any body must pass the charity test defined in the Charities and Trustee Investment (Scotland) Act 2005.
Public benefit
The test sets out the standard that all charities must meet in providing public benefit.
Where there are conditions on the public gaining access to the benefit, such as fees or charges, charities must demonstrate that they have taken steps to ensure these are not "unduly restrictive".
The Scottish Charity Regulator said five schools had passed its latest batch of evaluations.
These were St Margaret's School for Girls and Robert Gordon's College, both in Aberdeen; Kelvinside Academy and Belmont House in Glasgow; and Glenalmond College in Perthshire.
Wellington School failed to meet the test and was issued with a direction instructing it to widen access.
The regulator's view of Wellington was that "insufficient measures" were in place "to provide assistance in respect of high school fees, or to otherwise widen the access to the benefit provided".
The regulator's head of registration, Martin Tyson, said that the process was aimed at maintaining public confidence in charitable status, by ensuring that Scottish charities met the required standard.