Explorer Dr Livingstone 200th birthday stamps unveiled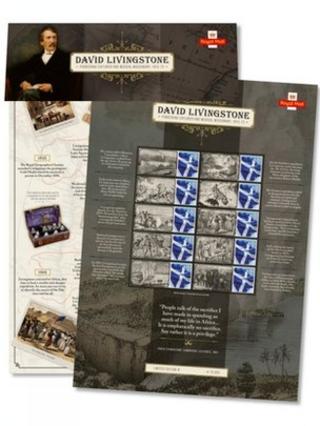 The 200th anniversary of the birth of pioneering Scottish explorer Dr David Livingstone has been marked with a set of commemorative stamps.
The Royal Mail stamps feature 10 images of key points in the missionary's life, including his medical work in Africa.
The release of the stamps is also timed to mark the 140th anniversary of his death from malaria on 1 May 1873.
The explorer's great-great-grandson Dr Neil Livingstone Wilson said the stamps captured his exploits.
"The set offers a mini-biography of achievements, exploits that enthralled the people of the time and became woven into the tapestry of history, a common history shared by people of Africa and Livingstone's own country," he said.
'Victorian hero'
Dr Livingstone was born into a poor and deeply religious Christian family in Blantyre, Lanarkshire, in 1813.
Despite working 14-hour days in a cotton factory from the age of 10, he managed to complete his education and qualify as a doctor and missionary.
He spent much of his life in Africa where he became the first European to "discover" and name Victoria Falls.
He also advanced the use of quinine to fight malaria, and campaigned to end slavery in east Africa.
The explorer died from malaria in a village near Lake Bangweulu in present-day Zambia.
He was buried at Westminster Abbey in London in 1874.
The first class commemorative stamps show moments and places from Livingstone's life.
They include the cotton mill where he worked as a child, his medical work treating malaria and his Zambezi expedition.
Andrew Hammond, Royal Mail stamps spokesman, said: "Dr David Livingstone was a hero of the Victorian era and his legend still lives on today.
"His expeditions were unique and many of his findings have helped society greatly."