Boston Marathon blasts: Highland mother carried her child to safety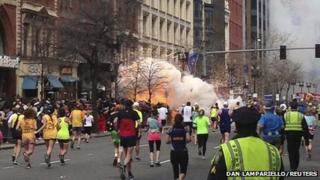 A Highland mother-of-two has told how she sprinted to find her children after hearing the Boston Marathon explosions.
Lynn Burnet, from Nairn, had just completed the marathon and was two blocks away when she heard the blasts.
"I heard this awful sound. It was boom, boom. People started to look panicked. I forgot I had run a marathon running to find them," she said.
Ms Burnet, who spent two years training for the race, then carried one daughter for a mile as they fled to safety.
"It was terrifying," she said.
"I don't think at the time you react because at the time I had my children with me, and my main priority was to get them back safely."
'Possible terrorist attack'
Rosie Allister, from Edinburgh, who was running for the Samaritans where she is a volunteer, had also finished the race when the explosions occurred.
"I'm stunned. It's so hard to take in," she said.
"The juxtaposition with the terrible events at one of the busiest possible parts of the entire race route is so hard to comprehend."
She is due to fly back to the UK to take part in the London Marathon on Sunday, where she will run in her "Boston finishers" shirt in memory of those affected by the explosions.
Three people were killed and more than 150 injured in what the FBI describe as a possible terrorist attack.
It is not yet clear whether any Scottish people are among the casualties after two explosions near the finishing line.
The UK Foreign Office said it was sending representatives to hospitals in the area to establish whether any Britons were among the victims.
Former Team GB steeplechase runner Andrew Lemoncello from St Andrews in Fife was part of a group of 150 athletes from all over the world who were running in the marathon.
Finishing straight
He was in his hotel room at the time of the explosions, but said one of his fellow athletes had seen the second blast.
"She was coming down to the finishing straight, about 300 metres away.
"I got a short message from her saying she was ok but she didn't know how to process things right now.
"I think everyone was in that same situation."
Scotland's First Minister Alex Salmond described the incident as a "cowardly attack on innocent people".
"Our thoughts and prayers are with those affected by this terrible atrocity," he said.
He said a lot of people from Scotland had been taking part in the marathon.