Stamps mark Royal Yacht Britannia launch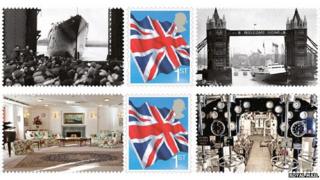 Commemorative stamps are being issued to mark the 60th anniversary of the launch of Royal Yacht Britannia on the Clyde.
During 44 years serving the Royal Family, the yacht went on 968 official voyages around the world.
It is now a tourist attraction at Leith in Edinburgh, hosting about 300,000 visitors a year.
The 10 stamps feature its launch by the Queen in 1953, its apartments and its final trip to Hong Kong in 1997.
The yacht's barge also led about a thousand boats for the Thames Jubilee pageant last June, carrying the Queen and the Duke of Edinburgh.
Built by workers at the John Brown shipyard in Clydebank, near Glasgow, Royal Yacht Britannia was launched on the Clyde on 16 April, 1953.
During its service it is said to have travelled at least a million miles.
The Royal Mail commemorative book of stamps goes on sale from Tuesday, exactly 60 years since the Clyde launch.
Royal Mail spokesman Andrew Hammond said: "HMY Britannia has played a hugely important part in the reign of Queen Elizabeth II and it's only fitting that its anniversary should be marked with a set of Royal Mail commemorative stamps that will travel the world in the same way that the yacht did for so many years."