Pakistani man arrested in Glasgow over 'sham marriage'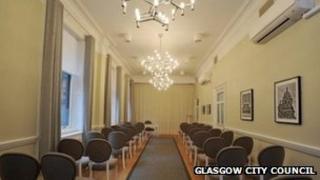 A man from Pakistan has been arrested in Glasgow before he was due to get married in a suspected sham wedding.
The 27-year-old was in the country illegally having over-stayed his visa.
Immigration officials detained him at Montrose Street registration office at 10:30 on Tuesday just as he was set to marry a 32-year-old Lithuanian woman.
He now faces removal from the UK. The woman was questioned by officers from the Home Office Immigration Enforcement team and later released.
Typical sham marriages or civil partnerships occur when a non-European national marries someone from the European Economic Area.
Intelligence operation
If undetected, this could give them long-term residency and the right to work and claim benefits in the UK.
Adam Scarcliffe, from the enforcement team, said: "Anyone in the UK illegally and seeking to evade our immigration laws should take heed of this latest operation. Expect to be found by us and removed from the UK.
"The Home Office is working with colleagues at registration offices throughout Scotland and receives intelligence from a wide variety of sources.
"We will not hesitate to act against those who mistakenly believe that they can abuse the immigration system."