Lynda Spence trial: Court hears of 'sightings'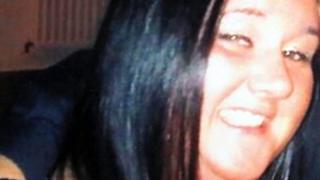 The Lynda Spence murder trial has heard details of possible sightings of the missing businesswoman from witnesses.
Constable David Whyte, 35, told the High Court in Glasgow he saw a woman in Argyll in June 2011 who bore a "very good resemblance" to the 27-year-old.
William Brogan, 54, and Robert Kennedy, 64, also told of reported sightings in North Ayrshire and Glasgow.
Colin Coats and co-accused Philip Wade, both 42, deny abducting, torturing and murdering Ms Spence in April 2011.
Mr Whyte told the court he was driving west on the A82 to a family holiday in Lochgilphead, Argyll, when he saw the woman shortly before 13:00.
Police phoneline
He said: "As I was passing through Dumbarton, there's a dual carriageway with a central reservation separating both carriageways. There was a female on the central reservation walking towards me as I was driving past.
"She bore a very good resemblance to a female we had been made aware of as being a missing person at that time."
He confirmed that the missing person in question was Ms Spence and said of the sighting: "She bore a very good resemblance to Lynda Spence."
The policeman said he rang the phoneline to report the sighting.
Derek Ogg QC, representing Mr Coats, asked the witness: "The resemblance was sufficiently good that you felt it should be phoned in right away?"
The officer agreed.
When he later provided a statement about the sighting, he said he described the woman as being in her mid-30s, 5ft 8in, of heavy build and with brown hair in a ponytail.
Solicitor general Lesley Thomson, prosecuting, put it to the witness that he "didn't consider the sighting was sufficiently important enough to stop", and asked him how certain he was about the sighting.
Mr Whyte replied: "I can't be absolutely certain, but from the information provided to us in several briefings it was a close enough match to warrant a phone call."
Pub 'sighting'
The court later heard of other possible sightings of Ms Spence after she went missing.
Jurors heard that Constable Stephen McBride, 33, believed he had spotted Ms Spence outside a Glasgow pub.
He had met the financial adviser in January 2011 when he stopped her car and found her to be driving without a licence or insurance, the court was told.
Mr McBride said he was informed at a police briefing in May that year that Ms Spence was a high-risk missing person.
He initially told officers on the inquiry that he had seen Ms Spence smoking a cigarette outside a pub in Mitchell Street and was certain the sighting had taken place on 26 April that year.
He told the court that he was 100% sure of the identification of Ms Spence but now believed the sighting was more likely to have been on 29 March 2011.
The court heard that witness William Brogan was 80% certain he had seen Ms Spence in Saltcoats, North Ayrshire, in June 2011.
Self-employed Mr Brogan, 54, said he was working in a charity shop in the town when his attention was drawn to a "carry on" outside.
He went to investigate and, when he turned to go back into the shop, caught a glimpse of a woman and thought he recognised her face.
He told how he later saw a photograph of Ms Spence on the news.
"It was then that I realised that was the person I had seen," he told jurors.
He agreed with Mr Ogg that he was 80% sure of the sighting.
Ms Thomson asked whether he could be wrong about the woman being Ms Spence.
"I could be, I very well could be," he replied.
Forklift driver Robert Kennedy, 64, told of a possible sighting in Jordanhill, Glasgow, in July or August 2011.
He said he was waiting in his car at traffic lights when he saw a woman.
"She looked very dirty. Facially she did look like Lynda Spence," he said, adding that he had heard about the missing woman on the news.
The trial before judge Lord Pentland continues.