George Square to receive more modest revamp, councillors agree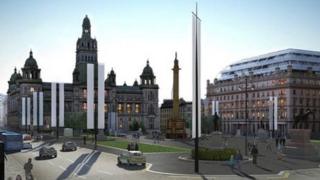 Glasgow's George Square is to receive a revamp in time for the city's hosting of the 2014 Commonwealth Games.
City councillors have agreed to a more modest plan than the one that was abandoned in January following much opposition from the public.
A new grey surface will replace the present red tarmac, with grass areas expanded and 13 statues remaining.
More dramatic changes are planned after the Games - but only after a promised public consultation.
The total budget matches the £15m earmarked for the original proposals, but the initial revamp will cost £500,000.
Six radical visions of the square went forward in January to a panel chaired by council leader Gordon Matheson following a Royal Incorporation of Architects in Scotland competition.
Remembrance Day
Councillor Matheson was an enthusiastic advocate of change, but he announced the winning design would not go ahead, saying the people of Glasgow had made it clear they did not want radical changes.
It cost taxpayers an estimated £100,000 and architectural practices a further £200,000.
The first stage of the work will begin in July and is due to finish in September, allowing for suitable commemoration of Remembrance Day.
It will also enable the city's Christmas events to return to the square this year.
Officials have been asked by councillors to prepare another paper on proposals for the second phase of the work.
It will be considered by the executive committee later this year and will include details of a public consultation on the final surface and treatment.