Gregory's Girl school Abronhill High closure reviewed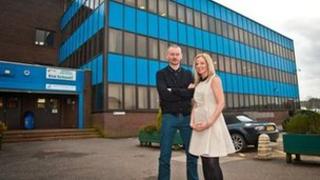 Scottish ministers are to review a decision to close a North Lanarkshire secondary school which was immortalised in Bill Forsyth's film Gregory's Girl.
North Lanarkshire Council approved controversial plans in February to close Abronhill High in 2014 and transfer pupils to Cumbernauld High.
Ministers have called in the decision amid concerns it may be bad for pupils.
The council said the decision was politically driven and accused ministers of a "dictatorial approach".
After voting to close Abronhill, the council said the decision aimed to address the falling school roll and realise annual savings of £1.3m.
However, there was widespread opposition from the local community, prompting ministers to review the decision.
Statutory obligation
The Scottish government has now informed the authority it has concerns the educational benefits of the proposed closure and merger move "lacks clarity".
Ministers will examine whether the council may have failed in its statutory obligation to seek expert advice and whether its proposal takes "sufficient account" of the possible effects on pupils.
They will also look at concerns over "safe and accessible routes" to the new school and whether Cumbernauld High has adequate PE facilities.
North Lanarkshire councillor Jim Logue, convener of learning and leisure services, said the authority was "not particularly surprised" by the call-in decision.
"Clearly this has been driven by political considerations rather than in the best educational interests of the young people currently attending the schools concerned," he said.
"This decision is indicative of an increasingly dictatorial approach from Scottish ministers in local government matters."
Mr Logue said "the fundamental reasons" for the closure and merger proposal remained addressing under occupancy and savings concerns.
He added: "The reasons given by the Scottish government for the call-in do not stand up to any scrutiny and we are 100% confident of our position."
Many of the exterior scenes for Gregory's Girl were filmed outside Abronhill High.
The much-loved film starred John Gordon Sinclair as Gregory, Dee Hepburn as Dorothy and Clare Grogan as Susan.