Glasgow's George Square to get less 'radical' revamp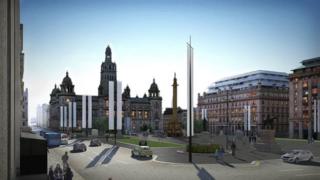 A less 'radical' redevelopment of Glasgow's George Square has been unveiled by the city council after earlier plans sparked a public outcry.
Councillors will consider the new two-stage plan on Thursday.
It will entail a £500,000 resurfacing to remove the red tarmac and provide more grassy areas. It will be completed before next year's Commonwealth Games.
A larger, second phase will follow after Glasgow 2014, with the final total cost being £15m.
Six designs had originally been commissioned by Glasgow City Council but plans were scrapped after an adverse public reaction.
Council leader Gordon Matheson said: "The people of Glasgow were very vocal throughout the design competition that they did not want a radical redesign of the square.
"They wanted the statues to remain, the grass to stay and the red tarmac to go.
"We listened to their views and have responded."
Grey surface
The council's executive committee will be asked to approve a two-phased approach, with the first including a new grey surface using epoxy resin replacing the red tarmac.
A more permanent surface could follow, with councillors also being asked to instruct officers to prepare another paper on proposals for the second phase of the work to be considered by the committee later this year.
The council promises public consultation on the final surface and treatment.
"Work will begin on phase one of the redeveloped square in July and is scheduled to run until September," added Councillor Matheson.
"The two grass beds on the western side of the square will be returned, ensuring a greener square at the heart of our city.
"We are introducing feature lighting to the statues, the Cenotaph and trees within the square."
The scheduled completion date of September would allow for suitable commemoration of Remembrance Day and enable the city's Christmas events to return to the square this year.