Firefighters trail hails crew who died on duty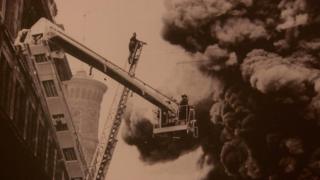 Firefighters who died in the line of duty have been honoured by a special city-wide memorial.
The Firefighters' Heritage Trail in Glasgow is a series of 12 commemorative stones placed at the sites of fires where crew lost their lives.
Strathclyde Fire & Rescue chief officer Brian Sweeney was delighted with the tribute to those who died on duty.
"I am very grateful to the Heritage Lottery Fund for awarding £54,000 to make it possible," he said.
"The desire to give all of these incidents their fit and proper place in the story of Glasgow is what prompted Strathclyde Fire & Rescue to create The Firefighters' Heritage Trail."
The 12 incidents featured as part of the trail stretch back to the fire at Queens Court in 1832, when volunteer firefighter James Bruce of the Glasgow Fire Brigade was killed.
The most recent firefighter fatalities to be memorialised are from Kilbirnie Street in 1972, when six crewmen lost their lives as they went to rescue a trapped colleague who also died.
'Tragic fires'
Assistant chief officer Lewis Ramsay, who chairs The Firefighters' Heritage Committee, said: "Glasgow has a distinguished and dramatic fire-fighting history.
"Over the years, as a major port and industrial and commercial centre, the city has seen devastating and tragic fires.
"Some of these fires claimed the lives of firefighters who fought gallantly to contain the destruction and save lives.
"We are very conscious of the sacrifice made by those who gave their lives and their loved ones, who suffered horrendous tragedy with the loss of husbands, fathers, brothers and sons."
The Firefighters' Heritage Committee led this project to completion with the support of Glasgow City Council, Glasgow Science Centre, the Heritage Lottery Fund, AKB Building Services and Wylie & Lochhead.
Speaking ahead of the reception in Glasgow City Chambers, Lord Provost Sadie Docherty said: "Strathclyde Fire & Rescue has protected this city from tragedy with courage, professionalism and dedication, from major incidents like Stockline and the Glasgow Airport terrorist attack, through to everyday roles both in responding to incidents and working to prevent tragedies."