Rockstar and AMT warning after Hamilton 'drug death'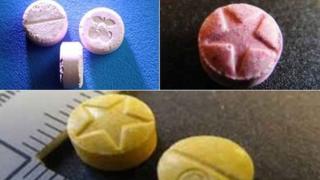 Police believe that tablets similar to ecstasy may be involved in the death of a man in South Lanarkshire.
The 35-year-old was found at a flat in Newlands Drive, Hamilton, at about 19:50 on Sunday.
A post-mortem examination will be held to establish how he died.
The death follows the hospitalisation of seven young people last week as a result of taking pink Ecstasy-like Rockstar tablets and a warning issued last year over AMT or 5-I.T tablets.
Police have now re-issued warnings to the public that both types of tablet may contain potentially deadly substances.
Europe deaths
Rockstar tablets - which are red or yellow in colour - are being sold as ecstasy and normally have a star impression on them.
The exact contents of the pills are unknown but they could contain a cocktail of different substances.
AMT or 5-I.T tablets are pink in colour with a logo showing two cherries on one side and a half score on the other.
The substance 5-I.T has been connected with a number of deaths in Europe.
Supt Grahame Clarke said: "These substances are unreliable, unpredictable and potentially very dangerous.
"Users may believe that they have taken ecstasy, and it is very likely that they will suffer from a significant negative reaction.
"Symptoms reported recently include increased heart rate, elevated core temperature and seizures."
Supt Clarke said these types of pills were "not covered by any form of quality control".
He added: "Users need to be aware of the dangers and understand the potentially devastating effect these tablets can have on their health.
"Whether bought online or from a regular supplier there is no guarantee the user will be safe.
"Anyone who has taken these tablets and feels unwell should seek immediate medical attention."
He said inquiries were ongoing to establish the source of the drugs and track down those supplying them.