Nine rescued from Glasgow tenement fire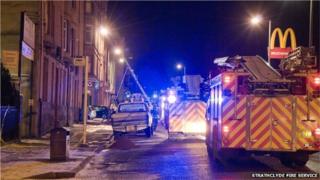 Nine people have been rescued after a fire broke out in a tenement building in the west end of Glasgow.
The blaze started in the Crow Road flats at 02:21 and was "well developed" by the time firefighters arrived.
Four people were rescued from the upper floors, with five more led to safety. Six residents were treated for the effects of smoke inhalation.
A total of 20 people were evacuated from the building and were given shelter at Partick Burgh Halls.
Strathclyde Fire and Rescue group commander Richard Duncan said 35 firefighters from Springburn, Knightswood and Milngavie fire stations were brought in at the height of the blaze.
"During the incident, operations support centre (OSC) staff who received the initial calls provided fire survival guidance to a resident who was trapped by the smoke in their flat above the fire," he said.
"The OSC firefighter remained on the telephone line with the resident to provide reassurance and give instructions on how to prevent smoke from entering the property and how to keep themselves safe from the fire until the attending crews arrived and rescued the resident from the property."
Firefighters are carrying out an investigation into the cause of the blaze.
Two people were also rescued and taken to hospital and 14 people evacuated after a fire in Maryhill.
The blaze broke out in a ground-floor flat of a three-storey block of flats shortly after midnight.