Girl, 12, forced to watch Mohammed Noor's brutal murder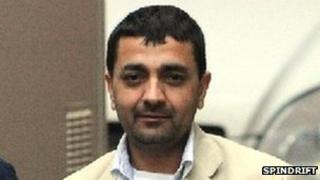 A man and woman who made a young girl collect a hammer and knife before brutally killing their victim in front of her have been convicted of murder.
Fazli Rahim, 41, and Saima Gul, 30, almost decapitated Mohammed Noor at a flat in Pollok, Glasgow, on 5 May 2012.
The 12-year-old girl told the High Court in Glasgow how she saw the victim being hit on the head with the hammer and repeatedly stabbed.
Rahim and Gul face mandatory life terms when they are sentenced next month.
The schoolgirl, who cannot be named for legal reasons, gave evidence during the trial via video-link.
Screams heard
She told the court how she had been at the house when Rahim and Noor came to visit.
The girl recalled later hearing screams before seeing Gul and Rahim on top of Mr Noor.
The child told the jury how she was then asked to collect a hammer and handed it to either Gul or Rahim.
Prosecutor John Scullion asked: "What did you see happen?" She replied: "I remember someone was hitting Mr Noor on the head with the hammer."
The young witness said she was then told to get a knife from the kitchen before being ordered to get a "bigger" blade.
She told the jury: "I can remember a knife going back and forward in his (Mr Noor's) tummy."
Rahim later left the scene - but only after going for a shower.
The girl said she was told to say he had not been there prior to him leaving.
Police later arrived at the flat and Gul said: "I no like mister - I stabbed him."
The court was told Mr Noor was discovered with his head "almost completely cut off".
'Appalling crimes'
Rahim had claimed he was acting in self-defence in connection with the murder, which was rejected by the jury.
Temporary judge Michael O'Grady QC told the pair: "You have both been convicted of one of the most appalling crimes it has been my misfortune to encounter in these courts.
"It was a hideous and cruel killing - little more than butchery. It is beyond comprehension that another human being could inflict such a brutal death on another.
"You recruited a 12-year-old girl into this carnage that she was forced to witness. You have lied before and persistently during this trial and I suspect what you have said is utter nonsense. The real truth may never be known."