Car clamped over unpaid £60 fine for peeing in Glasgow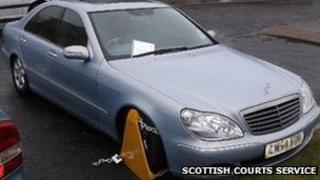 A man who was fined for urinating in central Glasgow has become the first in the city to have his car clamped for failing to pay a fixed penalty ticket.
The man, who lives in the north of the city, was fined £60 by police for antisocial behaviour over the incident.
His Mercedes car was clamped after he failed to respond to warnings over non payment of the fine.
The man was then required to pay the original sum, plus additional costs, to reclaim his car.
Vehicles have been clamped before in Glasgow but the Scottish Court Service (SCS) said this was the first for failing to pay a police antisocial behaviour fixed penalty ticket.
'Decisive action'
If the man had not paid up within 24 hours of his car being clamped, the SCS would have impounded the vehicle.
Once that action had been taken, further daily charges would have accrued.
If the matter was not settled, the court could ultimately sell or scrap unclaimed vehicles.
Interim SCS executive director Cliff Binning said: "We will take decisive enforcement action if you fail to pay a fine including clamping, seizing and even selling or scrapping your car.
"We pursue all unpaid fines, from road violations to court penalties."
Other enforcement powers open to the SCS for collecting outstanding fines include arresting wages, deducting benefits and freezing bank accounts.
As of January this year, more than 433,300 enforcement orders had been granted.