Lynda Spence trial: Two accused have not guilty pleas accepted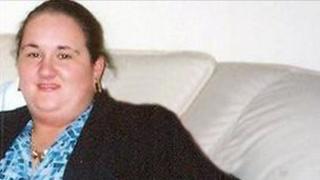 Two of the four men accused of killing missing financial adviser Lynda Spence have had their pleas of not guilty to murder accepted.
David Parker, 38, and Paul Smith, 47, pleaded guilty to reduced charges of assault to severe injury and conspiring to defeat the ends of justice.
These relate to the flat in West Kilbride where the Crown alleges Ms Spence was tortured and murdered.
Philip Wade and Colin Coats, both 42, remain charged with murder.
They deny abducting, torturing and murdering the 27-year-old at a flat on Meadowfoot Road, West Kilbride, between 14 and 28 April 2011.
The not guilty pleas were tendered by Andrew Lamb QC, representing Parker, and Brian McConnachie QC, representing Smith in the eighth week of the trial.
They were accepted by Solicitor General Lesley Thomson QC, prosecuting.
Judge Lord Pentland told the jury: "What you have heard is the accused Mr Parker and Mr Smith pleading guilty to assault to severe injury and not guilty to the crime of murder."
'Significant developments'
Lord Pentland added: "These are pretty significant developments. The situation of Mr Parker and Mr Smith will change to that of convicted persons and you, the jury, will no longer be called upon to make a decision as to their guilt.
"It is up to me as trial judge to convict them of the charges they have admitted to."
Earlier in evidence, the jury heard taped police interviews from Parker and Smith in which they claimed that Ms Spence was brought to the West Kilbride flat and they "babysat" her while she was allegedly tortured.
Those tapes could only be used as evidence against them, not Mr Coats and Mr Wade.
Now Parker and Smith will be called as Crown witnesses.
The trial before Lord Pentland continues.