Glasgow St Patrick's Day Festival gets under way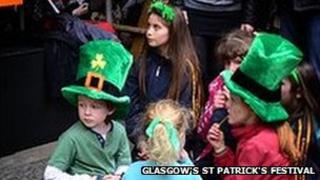 The 2013 Glasgow St Patrick's Festival will get under way later.
Running until 17 March, the festival will see variety of free and ticketed music, dance, song, discussion and family events at 10 local venues.
The official launch, at Merchant Square in Candleriggs, will see BBC Young Traditional Musician of the Year Paddy Callaghan perform with Irish dancers.
The festival launched last year to celebrate the Irish cultural heritage of Glasgow and Scotland.
It also helps raise funds towards the building of an Irish Centre in the city.
Speaking ahead of the 2013 event, Lord Provost Sadie Docherty said: "Scotland and Ireland share a Gaelic culture.
"Our histories are intertwined and our heritage is something to be celebrated.
"This event showcases all that is wonderful about Irish literature, music, dance and sport."