Man held over 'Rockstar' drug illness in Lanarkshire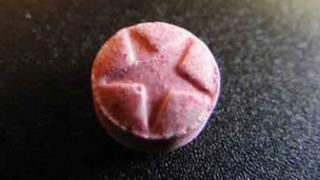 An 18-year-old man has been arrested over incidents in Lanarkshire at the weekend which saw people hospitalised after taking a drug called "Rockstar".
Seven people suffered adverse reactions to taking the pills but were later released from hospital.
Police described the red or yellow-coloured tablets, with a star impression on them, as a potentially deadly substance.
The man arrested is expected to appear at Airdrie Sheriff Court on Tuesday.
The police appeal at the weekend said the tablets had been sold as ecstasy.
They contained a cocktail of substances which were "unreliable, unpredictable and potentially very dangerous".
Those affected after taking the pills are understood to have suffered symptoms such as increased heart rate, elevated core temperature and seizures.