Police probe two RS McColl robberies in Glasgow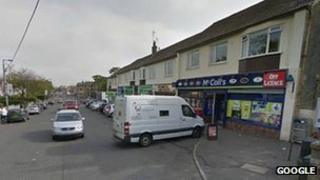 Police are investigating two armed robberies at newsagents to the south of Glasgow.
In the first incident on Friday evening, two men - one of whom was carrying a gun - stole money and cigarettes from an RS McColl's newsagents in Clarkston.
At 07:00 on Saturday, another RS McColl's in nearby Cathcart was robbed by a man carrying a weapon.
Police said they were not yet linking the two incidents.
A 18-year-old shop worker suffered a minor head injury during Friday evening's incident, which happened at the McColl's shop in Eaglesham Road, Clarkston.
He was taken to the Victoria Infirmary, but was released after being treated.
Strathclyde Police said the firearm was not discharged during the robbery, which happened at about 21:30.
The first suspect, who was carrying the gun, was said to have been white, in his late 20s, wearing a dark Fred Perry waterproof jacket with a logo on the left breast area, a white hoody underneath, a balaclava and blue jeans.
'Terrifying experience'
His accomplice, who was also white, was described as being of a similar age, wearing a dark hooded top, jeans and white Nike Air Max trainers.
Detectives were carrying out extensive inquiries into the robbery, including checking all available CCTV in and around the area.
They have appealed for information from the public to help with their investigation.
Det Sgt Mark McLennan said: "This was undoubtedly a terrifying experience for the young man who was working in the newsagents. Thankfully, he was not seriously injured, but he has been left very shaken as a result.
"The newsagents is situated in a very busy road and there are several takeaways and off-licences nearby.
"On a Friday night, this would have been more busy than usual, so I would appeal to anyone who was in the vicinity of this area of Eaglesham Road to get in touch with police.
"We are currently looking through all the CCTV coverage in that area in an effort to identify those responsible, but we need people to come forward with any information they may have.
"Did you see two men fitting the descriptions of the suspects acting suspiciously nearby just prior to the incident taking place?
"We know they left on foot, however, it is possible they had access to a vehicle, so I'd ask anyone who may have seen a vehicle parked nearby that may have been driven erratically, or at speed, to get in touch."
In Saturday morning's incident, two women aged 50 and 52 had just opened up the shop at about 07:00 when a man entered.
He threatened them with violence and a weapon while demanding money and keys to the safe. He stole a four-figure sum and keys to a white Volkswagen Polo which was parked outside.
The man then stole the car, which was later found burnt out nearby in Linn Park. The women were uninjured but left very shaken.
The man was described as about 5ft 10in tall, of slim build, with a thin/gaunt unkempt appearance and yellowing teeth. He was wearing a black jacket, with a blue hoody underneath and dirty blue jeans with dark shoes.
Det Con Stephen McGrath, who is is dealing with the police inquiry, said: "This was a brazen act by this man who went into the shop literally as it opened for the day.
"We understand that there was a man who entered the shop just prior to the suspect entering. Unfortunately we've been unable to trace this man as he left as the incident occurred, so we would urge this man to come forward to police as he may have information that could help with our enquiry.
"There was a robbery at another McColl's newsagent in nearby Eaglesham but at this time we are not linking both robberies."