Suspect arrested at airport after return to UK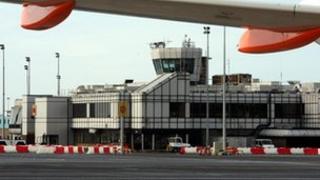 A suspected criminal who went to Spain in an apparent attempt to evade police has been arrested on his return to the UK.
The 43-year-old man was wanted by Scottish police in connection with money laundering and drugs offences.
Officers arrested him at Belfast International Airport as he got off a flight from Malaga on Wednesday.
He is said to have gone on the run after a series of police raids in Glasgow and Lanarkshire in June 2011.
The raids, which were carried out by the Scottish Crime and Drug Enforcement Agency (SCDEA), were targeting an organised crime gang.
When officers went to his home, the man - who has not been named - had disappeared.
He has now been charged under the Misuse of Drugs Act and in connection with money laundering. A report has been sent to the procurator fiscal.
Det Ch Supt Athol Aitken, head of investigations for the SCDEA, said: "This individual fled the country to avoid the attention of Scottish law enforcement and the Scottish justice system.
"His apprehension should be a clear message to others who attempt to evade law enforcement that there is no hiding place for those involved in serious organised crime.
"We will continue to work closely with our European colleagues to ensure that criminals face due criminal process, irrespective of the passage of time."