Archie Paterson and John Kenna jailed for murder of John Hyndman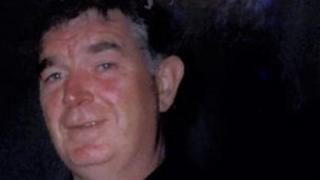 Two men have been jailed for life for murdering a man after claims that he had said one of their sons was gay.
John Hyndman, 48, was stabbed in the neck and stamped on before being dumped on a stairwell of flats in Ruchazie, Glasgow, on 4 July 2012.
Archie Paterson, 53, and John Kenna, 49, were convicted of murder and attempting to defeat the ends of justice.
At the High Court in Glasgow, both men were jailed for a minimum of 20 years.
The jury heard how Mr Hyndman, from the city's Haghill area, had been out at his local bar when it was his "grave misfortune" to accept an invitation to go to Paterson's home along with Kenna.
Shoe imprint
It was alleged that while in the flat, the victim had said that Kenna's son was gay.
Paterson initially threatened Mr Hyndman with a knife before Kenna got the weapon and stabbed him in the neck.
The court heard that he was struck with such force that the knife cut into his spine.
The victim was then repeatedly stamped upon, leaving a shoe imprint on his face.
His body was dragged out onto the landing before Paterson was seen throwing buckets of water to try and clean the blood-soaked flat in Blairlogie Street.
The pair eventually left the flat without calling for help for their victim.
Kenna was later said to have told his wife that he had "killed somebody" or "murdered somebody".
He is also said to have told friend Steven Hart that Mr Hyndman referred to his son as gay "three times".
Temporary judge Rita Rae QC jailed both Kenna and Paterson for life, imposing a punishment part of 18 years for the murder.
She added a further two years on the charges of attempting to defeat the ends of justice.
Judge Rae told them the murder had been "brutal" and "senseless".
"Not satisfied at killing him, you unceremoniously dragged him from the flat and abandoned him in the landing," she said.
"You had no idea whether he was alive or not and you carried on with your lives, leaving him there."