All Scotland Irish Dance Championships staged in Glasgow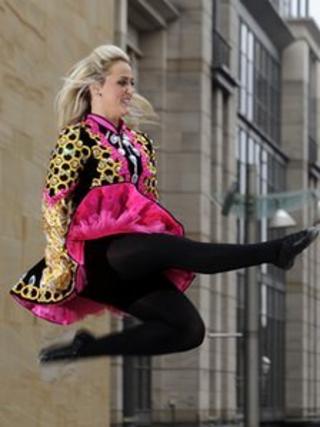 Almost 2,000 competitors have arrived in Glasgow for one of the world's biggest Irish dancing competitions.
The All Scotland Irish Dance Championships are being held at Glasgow's Royal Concert Hall until Monday.
The dancers represent some 300 dance schools from across the world, from as far afield as North America, South Africa, Australia and Russia.
A further 2,500 coaches, relatives and supporters have also made the trip.
This is the fourth year that Glasgow has hosted the All Scotland Irish Dance Championships in their 29-year history, with the competition having been held at City Halls in 2009 and 2010, and at the Royal Concert Hall in 2011.
The event is the last major event on the competitive Irish dancing calendar ahead of the World Championships, which this year will be held in Boston, Massachusetts, at the end of March.
The World Championships, which were last held in Glasgow in 2011, are due to return to the city in 2016.
'Significant boost'
Glasgow City Council leader Gordon Matheson said: "Irish dancing is a globally admired and historic aspect of Irish culture and Glasgow has earned an enviable reputation as its second home.
"The fact that the organisers of both the All Scotland and World Championships have chosen Glasgow for a fourth time is a strong vote of confidence in the efforts the city has made to make past events such a success.
"The staging of such prestigious events in Glasgow further reinforces the city's world-class cultural credentials and demonstrates our ability to deliver major events which provide a significant boost to the city's economy."
James McLaughlin, vice-president of An Coimisiun le Rince Gaelacha - which promotes Irish dancing across the world - said: "Without a doubt, the Glasgow Royal Concert Hall is the best venue in the world to host an Irish dancing contest. No other venues comes close to offering the quality of facilities that are available here.
"Alongside Ireland, both Glasgow and Scotland have great reputations as hubs for emerging world-class Irish dancing talent, which is why events here attract such huge numbers of overseas competitors."