Glasgow's Burrell Collection becomes listed building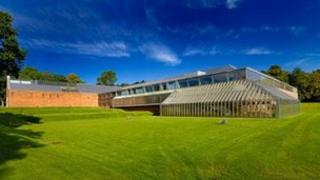 The building which houses the Burrell Collection in Glasgow has been awarded Category A listed status.
Historic Scotland who made the award said it reflected the building's importance as an example of 1970s architecture.
Cabinet Secretary for Culture and External Affairs Fiona Hyslop called the building "a masterpiece of structural design".
About 1% of Scotland's buildings are listed.
The glass and brick building, which hosts the art collection of Sir William Burrell that he gifted to the care of Glasgow, is situated in the city's Pollok Park.
The building opened in 1983 after a 13-year process to design and build a museum for more 8,000 paintings, pieces of furniture, and artistic objects collected by Burrell during his life.
Cllr Archie Graham, chair of Glasgow Life which runs the museum, said: "It says everything about the Burrell Collection building that is regarded so highly in its own right and is often named as one of Scotland's best.
"The A-listing from Historic Scotland allows us to celebrate this world famous building as proposals are brought forward for a refurbishment which will secure it for future generations."
Earlier this month trustees of the collection announced plans to upgrade and repair the 30-year-old building to make it fit for the 21st Century.
'Most impressive'
Ms Hyslop said: "The Burrell Collection is one of Glasgow and Scotland's most impressive buildings of its period and has contributed so much to our understanding of design thinking and the innovative use of interior and exterior space.
"The A-listing for the Burrell Collection is a fitting tribute especially in this its 30th year and recognises the significant contribution it has made to Glasgow's landscape and the aesthetic pleasure it has brought to many over the years."
Category A status is the highest level of architectural protection given to buildings, and makes up about 8% of 47,600 listings in Scotland. It is awarded to buildings which Historic Scotland determine have "national or international importance, either architectural or historic".
Clare Price, conservation advisor with The Twentieth Century Society, said: "We believe the Burrell Collection represents a unique contribution to twentieth century architecture in Scotland and to museum design internationally.
"The building's strength lies in its design: complementing the collection rather than competing with it, its sensitive palette of materials allowing it to blend with the landscape."
The collection attracts about 200,000 visitors each year.