Scots move for Dame Ellen MacArthur's cancer charity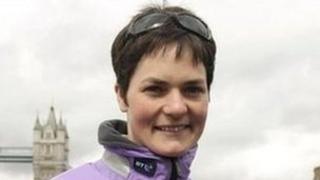 A charity set up by yachting star Dame Ellen MacArthur is creating a summer base in Scotland to offer sailing trips to young people recovering from cancer.
The Ellen MacArthur Cancer Trust will establish a sailing hub in Largs, North Ayrshire, for two weeks during July.
It will offer four-day trips on-board 38ft-48ft cruising yachts to young people, aged between eight and 24, who are recovering from the disease.
The scheme is being funded with £40,000 from the People's Postcode Trust.
Dame Ellen said the charity's work on the Isle of Wight had made a positive impact on people's lives and the Largs hub could be "just as life changing".
She has met Scotland's Health Secretary Alex Neil at Holyrood to discuss the project.
'Beautiful places'
"What we are going to be doing this year for the first time is taking young people from Scotland sailing in Scotland. It will basically be replicating what we have been doing for 10 years on the south coast," Dame Ellen said.
"We are really pleased to be working in Scotland. It is one of the most beautiful places in the world to sail and the young people gain so much from the experience.
"We have already worked with over 29 Scottish young people so we know that what the trust does is an integral part of their recovery.
"Having our services on their doorstep will make such a difference, allowing us to reach even more young people across the country."
Mr Neil added: "It's inspiring to see a charity work hard to make a young person's experience of cancer or leukaemia as positive as possible.
"Simply being involved with the cancer trust gives these youngsters the confidence to be young people again, to be around each other and find the strength to get their lives back on track."
Yachtswoman Dame Ellen made her name is February 2005 when she broke the then world record for the fastest solo circumnavigation of the globe
Since her retirement from professional sailing in February 2010 she has also founded the Ellen MacArthur Foundation to promote sustainability.
The People's Postcode Trust is funded by by players of People's Postcode Lottery.