Lynda Spence trial: Body 'dumped in Glasgow hills'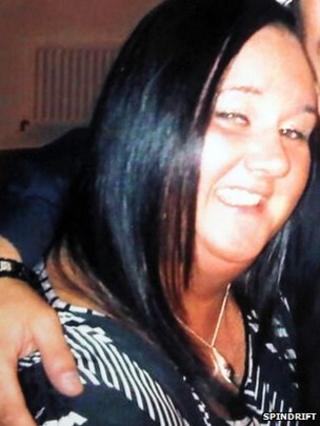 The Lynda Spence murder trial has heard that one of the accused admitted to disposing of a woman's body.
Pamela Pearson, 40, said 42-year-old Philip Wade came to see her at her home and told her he was having nightmares and not sleeping well.
She told the High Court in Glasgow that during the conversation he said he and a man called Colin had disposed of a woman's body "in the Glasgow hills".
Mr Wade, Colin Coats, David Parker and Paul Smith deny murdering Ms Spence.
The four men are charged with killing the 27-year-old financial advisor at a flat in West Kilbride in April 2011.
'Shocked and disgusted'
During evidence, Ms Pearson told jurors of the alleged conversation she had with Mr Wade.
"At first we just spoke about normal things: Nicola (Mr Wade's wife), the kids. Then he was appearing more agitated," she said.
"He just said he hadn't been sleeping well. I asked him why. He told me he hadn't been sleeping very well because him and Colin had disposed of a woman's body.
"I was shocked. Disgusted. I told him how shocked I was, my disgust was obvious. He appeared more agitated, much more agitated. I have never seen Phil like that.
"I started to feel quite threatened which had never happened before either."
Solicitor General Lesley Thomson, prosecuting, referred the witness to a statement she gave to police on 27 October 2011, which she agreed was a truthful, accurate account of the conversation, some of which Ms Pearson said she could not remember in court.
Parts of it were read out to the jury.
"I asked him why (he had been having nightmares) and he said, 'I've helped dispose of that woman's body'. I asked him what he meant by that. (He said) 'I was forced to dispose of her. Colin did it. Me and Colin disposed of her'.
"I was a bit shocked at this and I sort of thought it was strange he said he was forced because no one forces Philip to do anything."
'A mistake'
The statement went on: "I asked if it was the woman whose phone was found in Kilbirnie and he said it was. I asked how her phone ended up in Kilbirnie, and he said it was a mistake."
The court has heard that a mobile phone used by Ms Spence was found in a bin outside the Lunchbox cafe in Kilbirnie, Ayrshire, on 2 June 2011.
The statement said: "(Mr Wade) said 'me and Colin disposed of her in the Glasgow hills'."
Ms Pearson said: "I do remember that."
The alleged conversation took place "about a year and a half ago", Ms Pearson told the court.
Earlier, the court heard from Mark Asbury, 47, who said he and Mr Wade had been friends for about 22 or 23 years.
He claimed that during a meeting with Mr Wade, the accused told him that "some scouser" was sent to "do in" him and a man called Colin.
He said they intercepted the man in the stairwell up to his flat and killed him before cutting up and bagging the body.
The witness also said he saw a silver Vauxhall Astra car with a broken wing mirror parked in Garnock Grove, a lane next to Mr Wade's block of flats, in Glengarnock, North Ayrshire in April or May 2011.
This is the same make and colour as the car that was hired on behalf of Ms Spence by a friend days before her disappearance.
The trial before Lord Pentland continues.