Glasgow City Council approves £154m waste plant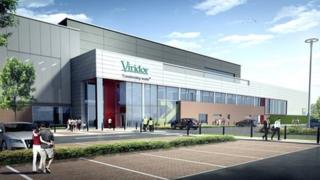 Planning permission has been granted for a £154m recycling and renewable energy centre in Glasgow's south side.
Waste specialist Viridor will begin building at Polmadie in the summer, with completion expected in early 2016.
The plant will be able to treat 200,000 tonnes of green bin waste a year and is expected to create 254 jobs.
In addition to recycling, Viridor says the plant will be able recover enough energy to power the equivalent of 22,000 homes and heat 8,000 homes.
The facility will be built at the council's existing waste facility at Polmadie.
CO2 savings
Viridor submitted the planning application for the site after signing a 25-year contract with Glasgow City Council last year.
The centre is expected to divert about 90% of waste generated in the city, making a saving to Glasgow of about 90,000 tonnes of CO2 every year.
It is estimated that over the length of the contract, the city will make about £254m waste savings.
Glasgow City Council leader Gordon Matheson said the building of the new facility was a "great step forward" to becoming "one of Europe's most sustainable cities".
"Without this facility, we would not only be faced with the depressing prospect of piling millions of tonnes of waste into the ground over the coming years, but we would also pay through the nose to do it," said Cllr Matheson.
"Our competitors - the likes of Sweden, Denmark and the Netherlands - have the highest recycling rates in Europe.
"It is no secret that they have achieved that by embracing a mix of modern, but proven, technologies that not only boost recycling but recover energy from what remains. That is an approach that has huge potential here in Glasgow."
Steven Don, Scottish regional manager for Viridor, added: "The project will not only help move the city towards a zero waste economy, but will deliver world class next generation green infrastructure whilst reducing council taxpayer exposure to costly landfill levies.
"The impressive facility will transform the way in which the city's annual 200,000 tonnes of domestic green bin residual waste is managed as well as positioning Glasgow as a leading force in Scotland in the provision of a cleaner, greener strategy for transforming waste in line with other European cities."