Myra Brown appeals over husband Ian's hit-and-run death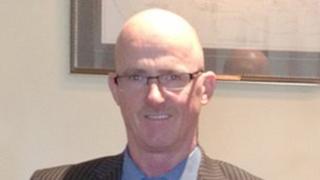 The wife of a man who died in a hit-and-run incident has appealed for information almost five months after the incident which claimed his life.
Ian Brown was found dead on the B734 Dailly to Girvan road, South Ayrshire, at about 03:05 on 28 July.
The 48-year-old was struck by a vehicle while walking home to Dailly after a night out at Girvan bowling club.
His wife, Myra, made a fresh appeal as her family prepares to face its first Christmas without Mr Brown.
Family 'devastated'
In a statement issued before the appeal, Mr Brown's family said: "It has been nearly five months since Ian was killed and the pain of losing him is as raw now as it was at the time of his death.
"Christmas is going to be a very difficult time for us - we are devastated by his death and miss him dearly.
"We would ask anyone with information that could help with this enquiry to contact police urgently.
"We need answers as to why someone would leave our beloved family member lying at the roadside."
Sgt Jackie Dunbar, of Strathclyde Police, is keen to trace the driver of a stolen vehicle in order to determine whether it was connected to Mr Brown's death.
She said: "A Landrover Discovery 3 Commercial 4x4 motor vehicle was found burned out at Loch Doon, Ayrshire, shortly after Ian Brown was killed.
"This vehicle was navy blue and had been stolen from Nairn, in the north of Scotland, overnight on the 3 July into the 4 July.
"A set of number plates were stolen from a vehicle in Kilmahog on 8 July which were displayed on the stolen Discovery when it was involved in an incident in Stirling later on the same day."
Sgt Dunbar said the Discovery 3 was then sighted in Castle Douglas on 14 July.
"I would like to know who had possession of this vehicle in July as it may be related to this investigation," she said.
"Someone out there must know who was involved in this incident. Someone travelled that road on the night in question and knows what happened.
"That person must have family or friends - their family or friends must have noticed a change in their behaviour."
Tragic death
Sgt Dunbar asked to hear from anyone who was in the Girvan area during the last weekend in July - perhaps visiting, working or at the nearby Turnberry Golf Seniors Open.
She added: "If you travelled this quite country road or were in the vicinity and have any information, no matter how insignificant you think it may be, I urge you to share it with me.
"Any death is difficult for a family, especially a sudden and tragic death and especially so at Christmas when other families come together."
Strathclyde Police said Mr Brown had been out with friends in Girvan on 27 July.
At around midnight, he left the town centre to walk home. He made his way out of Girvan onto Coalpotts Road then onto the Girvan to Old Dailly Road heading towards Dailly.
Officers have confirmed sightings of Mr Brown at various points along this route, the last one being around 01:20, a short distance from where his body was found.
Mr Brown was dressed in dark clothing, had very short cropped hair and was wearing glasses at the time he died.
His body was found on the grass verge of the B734.