Helen McGlone could receive £2m over smear test claim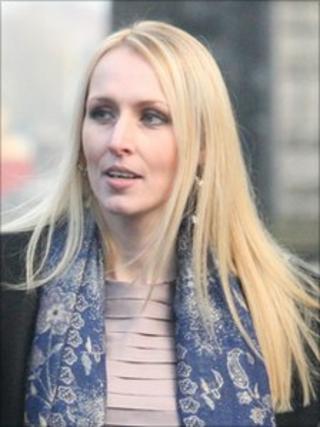 A woman who sued a health board after medics failed to spot signs of cancer looks set to receive £2m in damages.
Helen McGlone, 32, from Falkirk, was diagnosed with cervical cancer while working in Switzerland in January 2008.
NHS Greater Glasgow and Clyde (GGC) later admitted mistakes were made with smear tests she had been given.
The health board contested her damages action, claiming the errors had no bearing on her treatment as the cancer was already at an advanced stage.
A court previously ruled that Greater Glasgow Health Board would need to pay up, but did not set a figure for the damages.
On Friday, Lord Bannatyne said he had calculated that Ms McGlone was due just over £2m for her suffering, loss of earnings and pension.
However, he also ordered a further hearing before that figure is finally approved.
Health check
The court is still to hear Ms McGlone's argument for a further payout to cover the cost of fertility treatment and her wish to have a surrogate baby.
The Court of Session previously heard how Ms McGlone gained first class honours in physics and applied mathematics at Glasgow University and also has a PhD in particle physics.
After her studies she went to CERN, the European Organisation for Nuclear Research, in Geneva, Switzerland, to work on research projects there.
Ms McGlone was diagnosed with cervical cancer after a general health check in Geneva in January 2008.
At a previous hearing, she told the court how Swiss doctors were surprised as previous tests in December 2005 and March 2006 had not alerted Scottish medics to anything untoward.
Ms McGlone claimed that those tests showed "pre-invasive" cancer which, if identified then, would have needed less serious treatment.
Lucrative career
She said her qualifications and research would have enabled her to work in the banking industry and that she had intended to seek a job with an investment bank or other large financial organisation, earning a substantial salary and big bonuses.
Ms McGlone called expert witnesses to back her claim she had lost out on £15m to £20m in earnings.
NHS GGC admitted mistakes were made with smear tests carried out at Glasgow's Royal Infirmary and at the Sandyford Clinic, but contested the size of the financial claim.
In a written ruling, Lord Bannatyne rejected Ms McGlone's claims that a lucrative career was a certainty before her diagnosis.
He said the case raised particularly complex and unusual problems in deciding loss of earnings.
He described Ms McGlone as "a woman who was driven, highly competitive, calculating, committed to getting on and highly focused" - rejecting claims by the health board's legal team that many of her difficulties were the result of pre-existing personality problems.
Ms McGlone's legal team said they were "astonished" by the judgement and were considering an appeal.