James Finnegan found father John Finnegan shot in street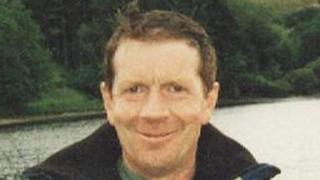 A murder trial has heard how a man who had been fatally shot in a village in East Renfrewshire was found in the street by his son.
The High Court in Glasgow was told that James Finnegan came to the aid of his father John, 48, following an incident in Neilston on 27 October 2011.
James McCarron, 33, and Francis Coates, 36, deny murdering Mr Finnegan.
Both men have lodged special defences of alibi. Mr Coates has also lodged a special defence of incrimination.
Witness Teresa Miller told the court how she had been walking to her home in Neilston on the night of the incident when she heard "a loud bang".
Firework sound
The 41 year-old said: "I thought that it was a firework - the sound made me physically jump."
Ms Miller then became aware of someone lying on the pavement nearby in Bank Street and initially thought the person had "taken a turn" due to the earlier noise.
Around the same time, she noticed Mr Finnegan's son James in a car with a friend.
Ms Miller told the jury: "The car stopped and James Finnegan got out. At first, he said: 'It's my dad'.
"He ran over and I crossed the road. I asked him what was wrong with his dad and he said: "My dad has been shot'."
Ms Miller recalled John Finnegan "gurgling" and she told his son to keep talking to his father.
She then left the scene along with her young niece.
The court later heard from 25-year-old James Finnegan who said he had been in a friend's car on the evening of 27 October when he spotted his father in Neilston.
The witness said it appeared Mr Finnegan was talking to another person in the street.
Prosecutor Jonathan Brodie QC asked: "Did they appear to know each other?"
Son 'froze'
James Finnegan replied: "Yes, definitely - for the simple fact that he was talking as if he was talking to one of his friends."
The landscape gardener told the jury: "The next thing I saw was the man pulling his hand then I heard a bang and saw a puff of smoke.
"I froze for a couple of seconds. I then said to my friend: 'My dad has been shot'."
The son said he yelled from the car: "You've just shot my dad" before the other person made a getaway.
He recalled racing across to help his father while his friend dialed 999.
James Finnegan added: "I was running about in the middle of the street shouting 'someone help me, someone help me'."
Emergency staff soon arrived before the witness was taken away by his grandfather to calm down.
When he got back, he said he spotted Mr Coates who he claimed looked "a bit flustered, a bit sweaty".
Mr Coates and Mr McCarron deny the murder.
Mr Coates has lodged a special defence of incrimination claiming the shooting was on the orders of Stewart Gillespie, who has since died.
The trial, before temporary judge Michael O'Grady QC, continues.