Mark Gallagher's killer Colin McFarlane has jail term cut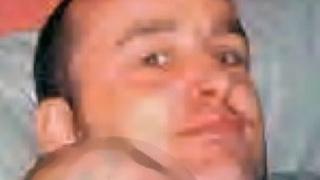 A man who was jailed for killing another man who agreed to be stabbed as part of a revenge pact has had his jail term reduced on appeal.
Colin McFarlane, 50, struck the deal with victim Mark Gallagher, 37, who had previously stabbed McFarlane's son.
He was jailed for 10 years for culpable homicide after Mr Gallagher bled to death in Dunbartonshire in January.
Appeal judges cut McFarlane's 10-year jail term by two years in recognition of his early guilty plea.
During an earlier hearing, the High Court in Glasgow was told Mr Gallagher, from Alexandria in West Dunbartonshire, had appeared in court last November, charged with assaulting McFarlane's son Kieran Frize to his severe injury.
Threatening revenge
In the weeks leading up to the killing, McFarlane repeatedly contacted Mr Gallagher threatening revenge over the attack on his son.
An agreement was reached between the two that Mr Gallagher would allow McFarlane to stab him.
In return McFarlane would not identify him in court as the man who had stabbed his son.
Mr Gallagher arranged to meet McFarlane, from Tullichewan, behind the pavilion at Argyll Park, Alexandria, at 16:00 on 15 January.
Mr Gallagher was said to be anxious and terrified, but told his girlfriend: "I'll just get a wee stab and that will be that."
The father-of-two bled to death, however, after McFarlane twice plunged a knife 14cm into his right buttock, severing major blood vessels.
McFarlane pleaded guilty to culpable homicide and was jailed for 10 years.
Judge Lord Turnbull told him that if he had not immediately owned up, the sentence would have been 12 years for what he described as "a callous and most vicious attack".
At the Court of Criminal Appeal in Edinburgh, defence QC Donald Findlay complained that the judge's "discount" had been less than generous.
If the case had gone to trial, McFarlane might have been cleared of the killing, said the lawyer.
Crime 'understandable'
"This would not have been, by any manner of means, a simple matter for the Crown to prove and if McFarlane had gone to trial it was by no means a given that a conviction would necessarily have followed."
McFarlane had done everything he could to bring the case to an end as quickly as possible, said Mr Findlay.
He also argued that Lord Turnbull's view that the stabbing merited a 12-year prison sentence was too harsh.
"While I accept of course, as does McFarlane, that he took the law into his own hands - and that can never be condoned - he took the law into his own hands for a reason which, while not justifiable is at least understandable," said Mr Findlay.
Lady Paton, sitting with Lord Philip, rejected McFarlane's claim that 12 years was too harsh but agreed he should have been given more credit for pleading guilty when he did.
The appeal judges cut the 10 year sentence to eight years.