Great Scottish Swim cancelled at Strathclyde Park over bacteria concerns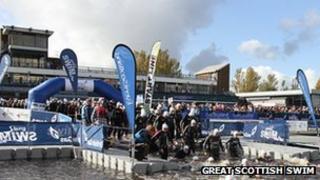 This year's Great Scottish Swim has been cancelled over concerns about bacteria levels in the loch at Strathclyde Country Park.
Thousands of people had been expected at the park in North Lanarkshire on Saturday for three open water swims.
Organisers cancelled after tests indicated heavy rainfall could push bacteria levels above safety limits.
A contingency venue was also ruled out over concerns about potentially harmful levels of blue green algae
The 2012 Great Scottish Swim would have seen entrants swim in the Strathclyde Park loch over half a mile, one mile or two miles.
Risk protocol
The loch had been closed for immersion sports for two months after open water swimmers took ill after an event in June.
Following this outbreak, North Lanarkshire Council, in conjunction with the Scottish Environment Protection Agency (Sepa) and Health Protection Scotland, commissioned a water quality risk management protocol.
This set out strict guidelines concerning the impact rainfall and river flow had on acceptable levels of bacteria in the water.
Although the most recent tests had been "encouraging", organiser Nova International said that weather forecast for this weekend was "unsettled with heavy periods of rain predicted".
A decision was taken to cancel the event as this weather "could push levels of bacteria above the safe limit, putting the health of swimmers at risk".
Director of the Great Swim Series, Alex Jackson, said: "Making the call to cancel the Great Scottish Swim has been extremely difficult, but the safety of our swimmers and their families remains our main priority.
"The strict guidelines that are in place mean, for us, there is an unacceptable level of risk."
Mr Jackson said every effort was made to find an alternative venue but it proved impossible to move the event.
"An event of this size requires considerable infrastructure which immediately discounted some very good options," he said.
"We had identified a promising location with full operational plans in place, but unfortunately, as of Sunday, water quality here has deteriorated also, and it is no longer suitable.
"We appreciate the inconvenience and disappointment a cancellation will cause, and all swimmers will be offered a full refund on their entry fee."