Deadline passes for Glasgow and Edinburgh local TV bids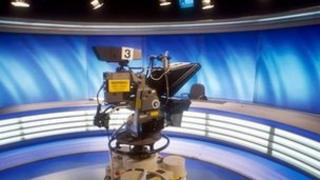 The deadline has passed for applications to run proposed local TV stations in Glasgow and Edinburgh.
The Westminster government is keen to establish a network of stations in cities and large towns across the UK.
The deadline for applicants was 17:00 on Monday and communications regulator Ofcom will later confirm details of the groups seeking a licence.
No major business or consortium has publicly declared an interest in applying for the two Scottish licences.
TV licence money has been set aside to help get the new stations on the air, but once they are up and running they will be reliant on advertising and other commercial revenue.
Key advantage
The apparent lack of interest in running a station in Glasgow or Edinburgh will be a disappointment to UK Culture Secretary Jeremy Hunt, who has long championed the concept of local TV.
During a visit to Glasgow last year he tried to drum up interest.
There may be other reasons for the apparent lack of public interest north of the border.
One may be that a key advantage being offered to local TV stations in England will not be available here.
Stations south of the border will appear on Channel 8 on Freeview - helping to ensure that they are prominent.
A slot on the first "page" of electronic programme guides is believed to offer channels a certain advantage.
But in Scotland, slot 8 is already taken by BBC Alba, so any local channels here would appear in a far less prominent slot - possibly as low as channel 48.
Another reason is that part of the rationale for local TV may have been weakened.
Localised service
The scheme came about, in part, because of concern that the traditional regional news services on ITV1 and STV were no longer viable and that they might end when the current Channel 3 licences expire in two years' time.
However, STV is now committed to providing distinct local news programmes for Glasgow and Edinburgh for the foreseeable future and also offers local advertisers air time.
With a major broadcaster continuing to provide a relatively localised service, it might be harder for a new operator to carve out a niche with either viewers or advertisers.
South of the border, there are indications ITV will also continue to provide regional news - although the nature of the service may evolve. An announcement is expected within months.
Many in the established media were always highly sceptical about whether local TV could be both financially viable and provide a useful public service, and believed the internet might be a better medium for local services.
While the Scottish government did not oppose the principle of local TV, it argued that creating a publicly-funded Scottish national channel - the so-called Scottish Digital Network - was more important.
Attempts to set up local stations in the past on analogue television - for instance the little-remembered Lanarkshire TV in the late 90s - ended in failure.
If nobody has applied in the present process, there may be opportunities again in the future - either in the two large cities, or in other densely populated areas including Inverclyde and the areas around Aberdeen and Dundee.