Flood-hit homes in Galston evacuated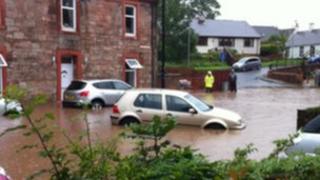 Six people have been rescued from their homes after flash flooding hit the town of Galston in East Ayrshire.
Residents living in Wallace Street and Barr Street walked to safety after a local river burst its banks.
They were taken to a local church hall before being given shelter by family and friends.
East Ayrshire Council said rainfall-driven debris had blocked local flood defences. This has now been cleared and water levels are returning to normal.
The authority's head of roads, John Bryson, said: "As a result of extremely heavy, localised rainfall in the hills above Galston, a large quantity of debris including trees and branches and part of a garden shed was washed down into the Irvine valley.
Defences 'overwhelmed'
"Some of this debris became lodged on the baffle of the flood defences, causing a blockage which resulted in these defences becoming overwhelmed early this afternoon.
"Five properties in Wallace Street and Barr Street were flooded. The occupants were assisted by the police and fire service who opened the local church hall as a temporary evacuation centre.
"They have all now been settled with family and friends while the damage is being assessed.
"Since our East Ayrshire Council team cleared the debris water has started to flow along the proper channels again and the flood waters are now subsiding."