Euromillions pair pledge £130,000 to Beacon Arts Centre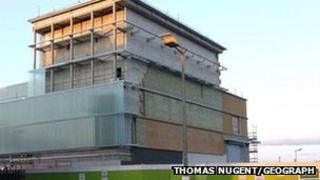 Europe's biggest-ever lottery winners have contributed £130,000 to the construction of a community arts centre in Inverclyde.
Chris and Colin Weir won £161m in the Euromillions jackpot last July.
The Beacon Arts Centre is a £10m theatre complex being built at a former dockyard in Greenock, and is due to open in October.
The donation from the couple is to be used to equip the kitchen and cafe areas of the new building.
Greenock Arts Guild, which will run the centre, said it would create jobs for some of the most vulnerable in the community.
Chris Weir said: "The ethos of The Beacon, particularly its focus for providing educational and employment opportunities, is to be congratulated.
"The Beacon aspires to be a leading example of how a community can come together and help those at risk or less fortunate.
"For example, the cafe within the complex specifically aims to support those with mental health issues by providing employment, something that is sorely needed."
She added: "We share the Greenock Arts Guild's aspirations for The Beacon and want it to be a success - that is why we made the donation."
'Unselfish philanthropy'
Last year, the Weirs, who featured in this year's Sunday Times Rich List, made a £1m donation to the SNP.
The couple has also contributed to an appeal to keep the Waverley Paddle Steamer in service on the River Clyde.
The Formula One fans also sponsored 15-year-old Gregor Ramsay as he joined the European Formula Three season earlier this year.
The Beacon will have a 500-seat main auditorium, as well as a 130-seat studio theatre and three large rehearsal rooms.
Elliott McKelvie, chairman of the board of trustees at Greenock Arts Guild, said they were "absolutely delighted" at the donation.
He added: "Through their unselfish philanthropy, Chris and Colin continue to make a positive contribution to charitable and community projects such as ours, and help organisations like the Arts Guild to plan and fund projects which can really change people's lives."
Last August, Andrew Lloyd Webber's foundation awarded a £100,000 grant to the Beacon Arts Centre.