Christie brothers jailed for life for Brian Faulds murder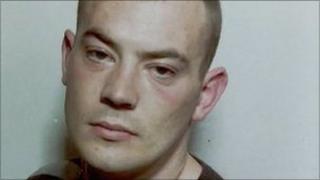 Two brothers have been jailed for life for brutally murdering a man before dumping his burned body near a bridge over the River Clyde in Glasgow.
Paul Christie, 29, and Adam Christie, 27, admitted using axes, a knife and meat cleaver to kill Brian Faulds, 29, at a flat in Dalmarnock in September.
They have each been ordered to serve a minimum of 24 years in prison.
Sentence on their younger brother Bryan, 22, who admitted helping to move Mr Faulds's body, was deferred.
Paul and Adam Christie entered guilty pleas on Tuesday, during the second day of their trial at the High Court in Edinburgh.
Body bound
Following their guilty pleas, judge Lord Tyre jailed Paul and Adam Christie for life, and ordered them to serve a minimum of 24 years before being eligible for parole.
He also jailed them for six years for attempting to defeat the ends of justice, although these sentences will run concurrently.
The judge told the brothers: "The violence which you inflicted on Brian Faulds was horrific.
"The post mortem report and photographs which I have seen bear witness to a vicious and sustained attack."
Lord Tyre added: "Only you know why this happened but what is clear is you inflicted at least 30 blows with bladed weapons to the victim's head. The injuries which resulted are truly dreadful."
As the men were being led away to start their sentences, shouts could be heard from the public gallery of "we're going to put you away" and "24 years is nothing - no justice".
Prior to the hearing, the court was inspected by sniffer dogs and armed police.
During the trial, the court heard how the brothers bound Mr Faulds with tape and repeatedly punched and kicked him on the head and body and repeatedly struck him with a knife, cleaver, axes, a hammer and baseball bat.
Bryan Christie was originally charged with the murder but the Crown accepted his not guilty plea.
All three men admitted attempting to defeat the ends of justice in the wake of the murder between 27 September and 7 October last year.
Murder scene cleaned
They bound Mr Faulds's body with tape and wrapped it in a blanket and carpet and put a pillowcase over his head.
In a bid to remove traces of blood and body tissue from the scene, wallpaper was removed from walls of the flat, paint applied and bleach poured on walls, floors and surfaces.
The corpse was put in the wheelie bin and moved from the murder scene to an embankment next to the Clyde Walkway where it was taken out of the bin.
An accelerant was applied and the body set on fire. Weapons such as a cleaver and axes were also disposed of.
The court heard that Mr Fauld's burned remains were found by 36-year-old Joseph McQueen at the Clyde Walkway on 28 September.
He called police but had to be taken to hospital suffering from shock.