Dumbarton Rock graffiti clean-up concern raised by climbers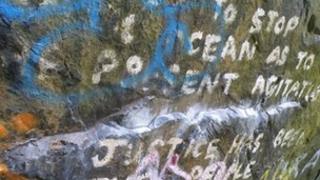 "The people who live here love this place. But I think it is underappreciated."
Local community councillor Rose Harvie led me down a dark, uninviting, overgrown footpath between Dumbarton Rock and the football stadium.
We pushed our way through shrubbery, and dodged deep pools of smelly mud.
And there, under a tree, was stark evidence of the problem. Two cans of spray paint. And a disposable latex glove, like the ones they give away at petrol stations.
Presumably whoever had been using the paint here had also brought the glove, so they didn't get too much evidence on themselves.
I don't think they'd been doing a covert paint job on their car. The wall alongside the footpath was covered in graffiti.
And even once we got to the end of the path, and we could look back and up at the sheer crag that rises from the Clyde to the Castle, there was plenty more on show.
In fact, it seems to me, there are at least three different kinds of graffiti at the site.
There's some that's been there for decades. Like the faded, but just visible, remains of the Lion Rampant on Eagle Boulder. Or the poem about justice on Home Rule Boulder.
There's some more recent work which has taken time and considerable skill, like the giant swirling text that is sometimes prompted as street art.
And then there are people's initials, football team names, a big blue-grey splatter where someone has obviously thrown a paint tin at the cliff, and swear words.
Rose Harvie wants to turn the site into an asset for the town. She's proposed opening it up, clearing up some of the industrial remains from Denny's shipyard, putting in information signs, and cleaning up the graffiti.
And it seems her voice, along with others from the area, is being heard.
David Mitchell, Historic Scotland's Director of Conservation, told BBC radio's Good Morning Scotland programme: "We've had some concern expressed locally about the level of graffiti, so we're planning to take a look at that and see if we can clean it up."
The organisation's web site describes the official history of the site. How the importance of Dumbarton Castle has been recorded for 1,500 years. How it was attacked by the Vikings. Its importance in the Middle Ages, and even during the Second World War.
But, it turns out, the Rock and the massive boulders along the shoreline have a unique importance in the recent history of Scottish climbing too.
Climbers probably first started going there in the 1950s, practising for the more obvious challenges of the Highlands.
But they soon realised that the site offered unique possibilities all of its own.
In 1983 Dave Cuthbertson climbed a route called "Requiem", graded Extreme eight - at the time the hardest in the world.
And again in 2006 Dave MacLeod climbed the Extreme eleven route he called "Rhapsody", also on Dumbarton Rock.
John Watson, who writes and blogs about climbing and bouldering, told me MacLeod had "effectively stretched the limit of extreme climbing".
"It still remains, if not THE hardest, one of the hardest routes on the planet."
"It was effectively like a Scot turning up at the Olympics and beating Usain Bolt."
You might think that climbers would welcome Historic Scotland's plans for a clean-up. But, in fact, the Mountaineering Council of Scotland has expressed concerns.
"The removal of the graffiti may well damage some of the very small, fine, holds that exist on the boulders and on the rock", Dave Gibson explains.
"And that's really important, because these climbs are world-class."
And there is a second reason, which calls into question ideas about what is truly historic.
"There's one famous boulder here, called the Home Rule boulder, which has got historic associations for people wanting an independent Scotland."
But now, David Gibson says, the boulder - so-called because of a poem painted on the rock - is part of climbing history too.
"That, and other graffiti, have actually resulted in some of these climbs being named after the graffiti.
"Cave painting once was graffiti. Viking runes on the ancient monuments in Orkney were once graffiti. Napoleonic prisoners wrote graffiti on castle walls.
"So we would urge Historic Scotland to regard some of this graffiti - not all of it, but some of it - as being part of Scotland's climbing culture and heritage."
David Mitchell, Historic Scotland's Director of Conservation, said he had been "amazed" to learn about Dumbarton Rock's importance in climbing history.
"It's been a bit of an eye-opener to me", he added.
And he was at pains to reassure climbers and boulderers who come from all over the world to Dumbarton.
"We have specialist stone conservators, some of the best in the UK, who deal with this kind of stuff right across the country on iconic historic sites.
"So, we're not heavy-handed in what we do. We're very, very cautious."
Now he's offering to meet climbers at the Rock to discuss in details all the issues they are concerned about.
"I'm fairly relaxed that we can come to a good solution, for all concerned."