Bigotry warning ahead of Orange march in Glasgow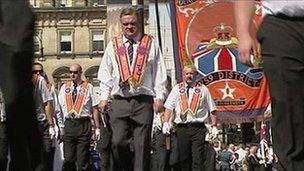 Police have warned people planning to attend a major Orange Parade in Glasgow at the weekend that sectarian and anti-social behaviour will not be tolerated.
Up to 8,000 marchers will pass through the city centre on Saturday for the Grand County Orange Order Parade.
Strathclyde Police said officers would target people who cause disorder and drink to excess.
The Orange Order said it hoped "boozed-up foul mouthed followers" would not spoil the parade for others.
Asst Ch Con Ruaraidh Nicolson, the officer in charge of policing the event, said: "On Saturday, there will be 174 parades taking place throughout the force area.
Drinking banned
"Of these, 46 parades, with up to 8,000 marchers, will walk through Glasgow city centre.
"Our priority is to make sure the parades pass off peacefully whilst ensuring the safety of those taking part, the general public and my officers."
Asst Ch Con Nicolson said trained stewards would accompany the march again this year to allow police "to concentrate on those who follow the parade and behave in an appalling manner".
He added: "As most people should be aware by now, drinking in public is banned - don't risk it as officers will seize it from you.
"Our message is clear, by all means come to support the parade but behave and be respectful.
"Make no mistake, anyone committing any form of hate crime including name calling or making gestures or people who commit acts of violence, will be arrested."
Henry Dunbar, Grand Master of the Orange Order, said: "The annual Glasgow Boyne Celebrations is the city's biggest street event, and we want spectators to enjoy the music and the pageantry in a carnival atmosphere.
"We do not wish anyone's enjoyment spoiled by the antics of boozed-up foul mouthed followers.
"There is no place in our celebration for public drinking, abusive behaviour or offensive chants. I call upon every member of the Order to enjoy the day with the utmost decorum."