Rouken Glen Park awarded £2m lottery funding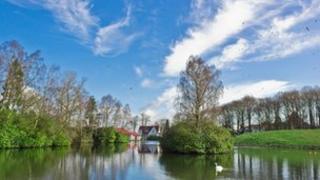 More than £2m in lottery funding has been awarded to a historic park near Giffnock, East Renfrewshire.
The grant will be used for regeneration and conservation work in Rouken Glen Park, which was opened in 1906.
Improvements will be made to the park's pavilion, boating pond, pathways and bridges. A new play area will be added and the walled garden will be restored.
East Renfrewshire Council is adding a further £1m to the £2.15m from the Heritage Lottery Fund.
The authority's environment convener Councillor Vincent Waters said: "This is absolutely fabulous news.
"Since the park opened in 1906 people of all nationalities have found peace and tranquillity walking along its paths admiring its beautifully landscaped gardens, waterfall and glen.
"And things about the park that many people don't know about such as its exceptional geology, industrial archaeology and cultural history will now be able to be fully explored and publicised."