Ravenscraig project to progress with £10m for M8 link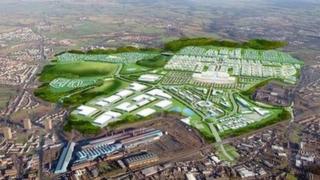 A funding package of £10m which will allow the redevelopment of the former Ravenscraig steelworks in North Lanarkshire to move forward has been approved by the local council.
The money will pay for work to link Scotland's biggest regeneration project with the M8 motorway at Newhouse.
It is 20 years this week since the steelworks were shut down.
The £1.2bn project to transform the site, creating a new town, is expected to take up to 30 years to complete.
Last year North Lanarkshire Council submitted a £73m funding proposal to the Scottish government which would see money for the regeneration of Ravenscraig raised under a scheme known as Tax Incremental Financing (TIF).
It allows cash to be borrowed then repaid at a future date from projected increases in business rates income resulting from new developments on the site.
Provisional approval for this method of funding has been granted, subject to the development and submission of a business case and financial model.
The local authority said final approval would leverage up to £425m of private investment, create up to 4,500 permanent posts and 500 jobs during construction of the new town centre.
The latest £10m of funding announced by the council will pay for tunnelling through a railway embankment, extending a bridge on the A723 between Holytown and Carfin and securing small parcels of land along the A723 required for road widening.
The aim is to create a dual carriageway link to the M8 at Newhouse.
Executive director of environmental services at North Lanarkshire Council, Paul Jukes, said: "There is an element of risk for the council in committing the £10m, but we believe it is necessary.
"To do nothing with such a large site is simply not an option."
Council leader Jim McCabe added: "A lot has happened in the 20 years since Ravenscraig closed, some of it obvious, some less so.
"Much of the land was heavily contaminated and had to be remediated, which took several years.
"A sustainable plan had to be developed and partnerships formed to drive and develop the aim of creating a township."
Councillor McCabe said somewhere in the region of £300m a year "leaves North Lanarkshire to be spent elsewhere".
He said it was vital that the area retained as much of that as possible to help create employment and investment.
The local authority's policy and resources committee has approved the £10m of funding, which will go before the full council at a meeting next week.
The first phase of development at Ravenscraig has seen the construction of a new Motherwell College campus, the opening of the Ravenscraig Regional Sport Facility and completion of the first houses on the site.