Rangers hand over documents in SPL contracts probe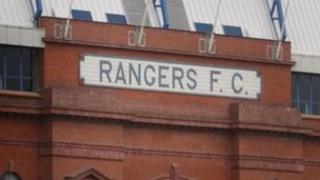 Lawyers investigating allegations that Rangers used dual contracts to pay players have received documents from the club, BBC Scotland has learned.
The Scottish Premier League (SPL) appointed Glasgow law firm Harper McLeod to investigate the claims earlier this year.
Documents were first requested from Rangers in March.
If it is proven that the club used dual contracts against league rules, Rangers could be stripped of titles.
Rangers used Employee Benefit Trusts (EBTs) to pay dozens of players during the last decade.
Tax tribunal
HMRC issued a bill to Rangers for unpaid tax on the schemes, believed to be in the region on £49m, including interest and penalties.
Rangers contested this at a First Tier Tax Tribunal which concluded in January and is due to issue its determination imminently.
It is believed the potential EBT liability facing the Ibrox club, which was placed in administration in February over other unpaid tax totalling £14m, could now be as high as £75m, including penalties and interest.
The SPL investigation centres on whether the EBT payments to players were included on their contracts.
Board meeting
Scottish Football Association (SFA) rules state that all payments made to players in respect of their earnings from football must be declared on one contract. Clubs falling foul of those rules could face sanctions from the league.
The SPL launched its investigation into Rangers' use of the EBT scheme on 5 March.
The probe covers the period stretching back to the SPL's inception in 1998.
In a statement, the SPL confirmed it had received documentation from Rangers in relation to the investigation into EBT payments.
"The SPL's legal team will now review and provide an update to the SPL board at the next SPL board meeting on 18 June," it said.