Colonsay residents flee as wild fire breaks out on island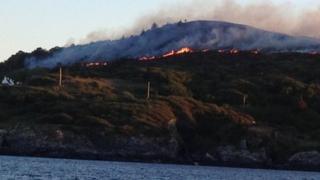 A large wild fire on the island of Colonsay in the Inner Hebrides has been brought under control.
The blaze at Kiloran Bay was reported at about 16:00 on Friday and eyewitnesses reported the fire appeared to be spreading rapidly to two cottages in the west of the island.
The occupants were said to be moving out their possessions.
The fire was finally put out in the early hours of the morning. No-one was injured.