'Concerns' over cardiac service at Yorkhill Sick Children's Hospital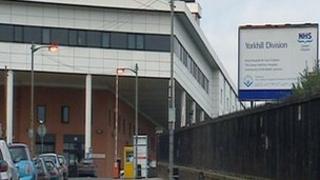 An independent panel has said cardiac services at Glasgow's Sick Children's Hospital "may be unsafe" if "critical staffing problems" are not addressed.
The evaluation raised "significant concerns", including "a lack of leadership and coherent team working".
Of 31 areas scored, 19 were rated poor, one as inadequate, six as acceptable, three as good and two as excellent.
NHS Greater Glasgow and Clyde (GGC) said an action plan was being put in place to address areas for improvement.
The health board stressed that its cardiac services at the Royal Hospital for Sick Children, Yorkhill, were "both safe and sustainable".
Two evaluations
A self-evaluation of cardiac services at the hospital was carried out in late 2011 by clinicians and managers. This was measured against the NHS in England's "Safe and Sustainable" standards of care.
As part of the same process, an independent panel of experts was asked by the National Services Division (NSD) to assess this self-evaluation in November.
The NSD is a division within the NHS in Scotland which commissions and performance manages specialist services, such as congenital cardiac care.
The in-house assessment highlighted that the English standards "recommend that any children's heart surgery service should operate with a minimum of 400 patients a year and four surgeons".
The report noted that "given the population size of Scotland, it is inevitable that a Scottish service will have a lower number of patients".
Yorkhill Sick Kids Hospital has an average of 300 patients a year and three paediatric cardiac surgeons.
The in-house assessment, however, concludes that "Yorkhill's outcomes are as good as any other UK centre".
The report also makes recommendations for the paediatric intensive care unit services, including that two consultants who had recently left, should be replaced, and the number of cardiac liaison nurses be increased.
'Significant concerns'
The independent panel, however, is more critical of cardiac services at Yorkhill.
Its introduction states: "The panel had significant concerns about important aspects of the service in the surgical unit and in the broader congenital heart network.
"Of most concern was a lack of leadership and coherent team working.
"Also of concern was a sense that the provision of paediatric intensive care may be unsafe if critical staffing problems are not addressed."
Dr Jennifer Armstrong, NHS GGC medical director, said cardiac services at the hospital had been "the subject of a rigorous external review".
She said this had "confirmed many areas of good practice as well as highlighted areas where we need to improve".
"The Yorkhill team have put in place an action plan to address these issues and we will ensure that this service continues to deliver excellent care," she said.
'Valued service'
She added: "I am satisfied that the service we provide is both safe and sustainable."
Health Secretary Nicola Sturgeon said the report illustrated how much the service was valued by those who need it.
"Our service treats around 300 children each year - working with three surgeons who will each undertake 100 operations each year," she said.
"The fact that this unit provides a high quality service is backed up by UK published data that show the Yorkhill results and outcomes are just as good as other centres in the UK."
Ms Sturgeon said other recommendations had "all been taken on board" by NHS GGC and steps were being taken to address staffing concerns.