Fans fear Rangers 'could be lost'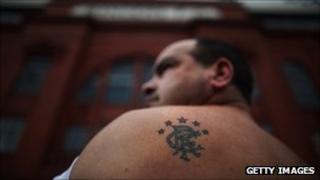 Supporters of Rangers Football Club fear the decision to appoint an administrator may be part of a chain of events which sees the club liquidated.
Rangers made the move in the face of a challenge from HM Revenue of Customs over possible major tax liabilities and an ongoing operating deficit.
The Rangers Supporters Club warned it could have consequences which reach well beyond this year's league title.
Scotland's sports minister said it was concerning for Scottish football.
Central Ayrshire MP Brian Donohoe, secretary of the Rangers Supporters Club, told the BBC: "It's absolutely devastating information that's come out today that the Inland Revenue would take such a silly decision.
"I just think they have moved far too quickly in this one and as a consequence they're almost debarring any possibility of anyone else taking over the club.
"The worst case scenario is that they could be put into liquidation and as a consequence we'll lose the name and we'll lose their place in the premier division in Scotland."
If the club is liquidated a new club could be formed to take on the Rangers name, and would have to reapply to take its place in the Scottish league structure.
This would impact not just on the Scottish Premier League, but also have implications for television and sponsorship deals.
Sport Minister Shona Robison said: "This is obviously a concerning situation for everyone involved in Scottish football.
"Football is our national game and it is now for the administrators to take forward the process of assessing the business and securing an outcome in the best interests of the club, its staff, supporters and the game of football as a whole in Scotland."
Scottish Labour said the threat to one of Scottish football's oldest institutions was a serious concern.
In a letter to Treasury minister David Gauke, Shadow Secretary of State for Scotland Margaret Curran said it was correct that the tax was collected.
But she added: "I would however ask that you, as the minister responsible, ensure that this is done in a reasonable way, focused on the best outcome for the club and taxpayer."
Rangers manager Ally McCoist said he would continue to work hard to take the club forward after Rangers moved into administration.
He told the club's website: "Obviously like everybody else there will be people concerned about their jobs and their welfare and we appreciate that.
"But everybody is of the same opinion; that we must rally together and take this great club forward."