Lloyds 'forced through' Craig Whyte's Rangers takeover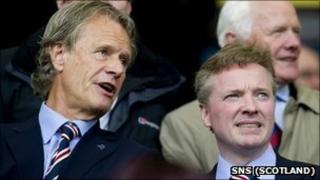 Lloyds Bank threatened to cut Rangers' credit line if Craig Whyte's takeover of the club did not go ahead, it has been claimed.
Former chairman Alastair Johnston told a BBC documentary he was warned about obstructing the deal by an individual employed by the bank.
Mr Johnston chaired the Independent Board Committee (IBC) which assessed bids on behalf of shareholders.
Lloyds said the decision to sell was solely a matter for Sir David Murray.
The club was initially put up for sale in 2009, as former owner Sir David Murray attempted to control its debts.
Due diligence
Mr Johnston took over as chairman in August 2009, when Sir David stood down.
The IBC, featuring Mr Johnston, Martin Bain, John Greig, John McClelland and Donald McIntyre, was formed in 2010 to assess the value of any bids and report its findings to Rangers' 26,400 minority shareholders.
Businessman Andrew Ellis's bid was announced in early 2010, and the bid from Mr Whyte emerged late last year.
A due diligence document about Mr Whyte's business history was commissioned and presented to the IBC.
The IBC had sufficient concerns about Mr Whyte's bid to issue a statement demanding that the new owners specify their financial commitment to the club in a document to be sent to all shareholders.
The Whyte bid, which included a pledge to pay the £18m debt owed to Lloyds, was initially rejected by the IBC.
It went through in May this year, however, after being accepted by club owner Sir David Murray.
Mr Johnston spoke about the takeover during an interview for the BBC documentary Rangers: The Inside Story.
Speaking about the alleged threat from the individual at the bank, Mr Johnston said: "Let me paraphrase, I was told that if I stood in the way of this deal happening, they said we're gonna cancel your credit line tonight."
Regarding Sir David's part in the deal, Mr Johnston said: "David wasn't in control of his own destiny.
"He'd become so beholden to Lloyds Bank of Scotland, and Lloyds Bank of Scotland desperately wanted this deal to happen."
Mr Johnston also told the programme he had wanted to know more about Mr Whyte's financial position.
He said: "One of our problems was that we did not see Mr Whyte's ability to have that £9m or £10m you need to keep the club going so it could pay its bills on time."
He added: "Liberty Capital was designated by Mr Whyte as his source of funding. And he wouldn't tell us very much about Liberty Capital."
A spokesman for Lloyds said the takeover was a matter for former owner Sir David Murray.
He said: "Lloyds Banking Group's aim has always been to secure the long-term financial stability and security of our customer, Rangers Football Club."
The programme also heard from former Rangers director Paul Murray, who said: "I think a lot of Rangers' issues were a direct result of the banking crisis, because the banking environment changed and every company including football clubs had difficult relationships with the bankers."
He went on to say how important the club's place is in Scottish society.
He said: "With an institution like Rangers we're all custodians of a 140-year-old institution. It's not just simply another company, there's a wider responsibility."
Mr Murray said he doubted Mr Whyte's logic in taking on an unspecified tax bill.
He added: "From my experience of buying and selling companies over a 25-year period, I've never ever seen anyone take on a liability of that nature before."
BBC Scotland Investigates - Rangers: The Inside Story was broadcast on BBC1 Scotland at 19:00 on Thursday 20 October, and for a week on the iPlayer