Highlands and Islands university sets RUK fees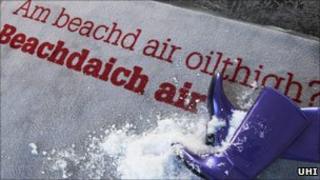 The University of the Highlands and Islands (UHI) has capped its fees at £22,500 for students from the rest of the UK (RUK).
Students studying four-year degree courses will pay the equivalent of £7,500 per year with the fourth year free.
Bursaries and scholarships will be available to eligible students.
The university said fees for RUK students would protect places for local students.
James Fraser, UHI principal and vice-chancellor, said: "As Scotland's newest university, we must ensure our mission to serve the communities of the Highlands and Islands is paramount and that places for local students are protected.
''Our number of students from the rest of UK is currently small.
''Nevertheless, we are a young university with aspirations to expand our student population, with high quality courses which will attract more students from outwith our boundaries in future.
"As a result, we have set our rest of UK student fee for a four-year honours degree at £7,500 per year with the fourth year of study free.
''That amounts to £5,625 per year."
Formerly a higher education institute, UHI was confirmed as Scotland's newest university in February this year.
It is made up of a network of 13 colleges and research centres in the Highlands, Western and Northern Isles, Moray, Argyll and Perthshire.