Cancer uses for Scots universities gamma ray project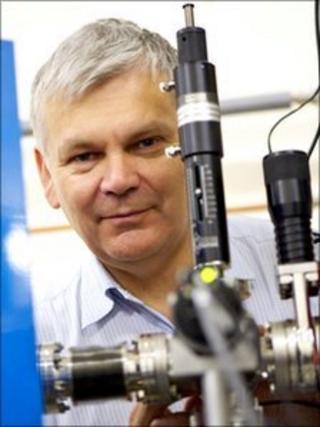 Scientists at Scottish universities have produced "the brightest gamma ray ever created" which could prove to be a "powerful tool" in cancer therapy.
Researchers at Strathclyde and Glasgow Universities fired ultra-short duration laser pulses into ionised gas.
The beams given off were so intense they could pass through 20cm of lead.
The technology could be used in medical imaging, radiotherapy, and radioisotope production for PET (positron emission tomography) scanning.
The rays could also be useful in monitoring the integrity of stored nuclear waste.
Prof Dino Jaroszynski, of Strathclyde University, who led the research, said: "This is a great breakthrough, which could make the probing of very dense matter easier and more extensive, and so allow us to monitor nuclear fusion capsules imploding.
"It could also act as a powerful tool in medicine for cancer therapy and there is nothing else to match the duration of the gamma ray pulses, which is also why it is so bright."
The research has been published in the journal Nature Physics.