Jack Vettriano self-portrait on display at Kelvingrove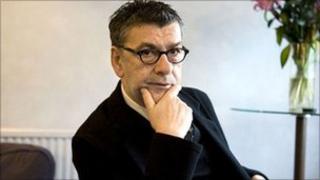 A self-portrait by popular Scots artist Jack Vettriano has gone on display at Glasgow's Kelvingrove Art Gallery.
The work, Self Portrait V, was created in the 1990s and is being displayed in the venue's Looking at Art Gallery.
It shows the artist in his working clothes - a contrast to the glamorous, perfectly dressed figures in the paintings for which he is best known.
The work has been loaned to the Kelvingrove for three years by owners Miles and Marina Turner.
'Huge debt'
It is the first time a work by Vettriano, who is one of Scotland's best known living artists, has been on display at the gallery.
Mrs Turner said: "I grew up spending my childhood in Kelvingrove and feel I owe the gallery a huge debt.
"I am delighted to be giving something back."
Councillor George Redmond, chair of Glasgow Life, which runs the Kelvingrove, said: "Jack Vettriano is without doubt Scotland's best known living artist and as such deserves a place among the masterpieces at Kelvingrove.
"We always endeavour to bring new audiences to Kelvingrove to see the treasures that Glasgow's Museums Collection holds and this loan will help us to do that."