Christopher Somerville rammed police car three times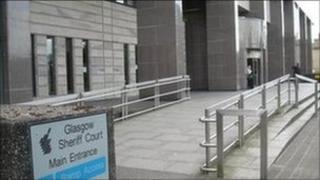 A teenager has admitted ramming a stolen car into a police vehicle three times during a crime spree in Glasgow.
Christopher Somerville, 16, pleaded guilty to a total of 21 charges, between August 2010 and May this year.
Glasgow Sheriff Court heard that these included stealing a motorbike and three cars, driving dangerously and without a licence or insurance and stealing fuel.
Sheriff William Totten told Somerville he had admitted "a catalogue of serious offences" before deferring sentence.
The court heard how Somerville stole the motorbike from a house at Hyndland, Glasgow, last August, and was later spotted on CCTV riding it and abandoning it.
Evaded police
In December last year, police saw Somerville driving a car at more than 80 mph through a bollard and into Maryhill Park in Glasgow.
Somerville, from Maryhill, then stole two cars in February from Hyndland and Bearsden, using the car keys.
He was seen at a petrol station in Milngavie filling the car with £50 before driving off without paying, and again stealing £46 worth of fuel in Kirkintilloch.
Police later spotted Somerville in Maryhill and signalled for him to stop the car, but instead he sped off at 90mph, swerving across the road.
On another occasion Somerville was asked to stop by police in Partick but sped off into a residential parking area where he found himself cornered.
He then performed a handbrake turn, repeatedly revved the vehicle's engine and rammed it into a police car three times.
The court was told that Somerville also stole a car in Glasgow's west end in May.